Submitted by Hospice of Marion County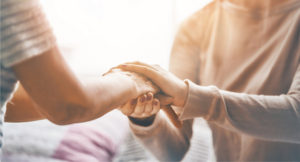 Life can be challenging for family caregivers. Sometimes it's a balancing act to manage your own routine, much less that of a loved one too. This is especially true when a loved one receives a diagnosis that requires more caregiving hours in the day than a caregiver can manage. When life situations change, Transition is there to support you and your loved one.
The Alzheimer's Association's 2019 Facts indicate more than 16 million Americans provide unpaid care to people with dementias, which represent 18.5 billion hours valued at nearly $234 billion.
Whether it's Alzheimer's, cancer, COPD or any other debilitating disease, receiving such a diagnosis usually means caregiving responsibilities are intensified. However, there is a resource that can help relieve the caregiver and the patient, providing a much needed respite or break to their day. Transitions is a program of Hospice of Marion County that can directly assist any Marion County resident or help identify other community resources available.
"We assist clients with a prognosis of about one year," says Transition Program Manager, Beverly Crumpler. "They may not be eligible for hospice care, they may even be continuing to receive curative treatment or just not emotionally ready for hospice. That's our clientele and we can help ease their situation and that of the caregiver."
While Transitions is designed to provide ongoing case review, provide updates to physicians and be a conduit to community resources, it is primarily directed to help caregivers cope, by providing welcoming phone calls, guidance on the progression of illness and visits from volunteers. The Transitions program also offers monthly Caregiver Support Groups.
Volunteers are the heart of Transitions
Many of our volunteers say this is a way to contribute to our community, and feel they receive more back in satisfaction of serving than they give. Volunteers provide all manner of assistance, from driving clients to doctor appointments, running errands and just providing good company. They visit once or twice a week and are often the highlight of a client's week.
The Transitions program is made possible by the generosity of donors, memorials and grants. "Part of our mission is to give back to the community in which we live," says Crumpler. "This is just one way we can make that happen."
Learn more . . .
Know someone who could benefit from the compassionate work of Transitions? Don't wait for a referral. Go online to www.transitionfl.com and take the confidential self-evaluation quiz. Or call the office at (352) 854-5200 to learn more about how we can assist you or your family.