FIRST AND ONLY FDA-APPROVED DRUG TO TREAT MACULAR TRACTION NOW AVAILABLE AT MID FLORIDA EYE CENTER
MOUNT DORA, Fla., April 26, 2013 – JETREA®, the first and only FDA-approved drug to treat macular traction, is now available at Mid Florida Eye Center.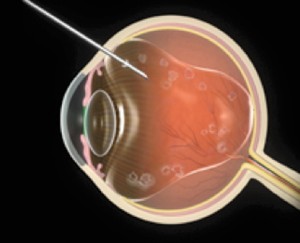 The local availability of JETREA gives area residents who suffer from macular traction a non-surgical option for treating this progressive, vision-threatening disease. Until now, the only treatment for macular traction was retinal surgery. JETREA is administered as a one-time injection during an in-office procedure.
What is macular traction? Macular traction is caused by the age-related shrinking of the vitreous, which is the clear, gel-like substance that fills the space between the lens of the eye and the retina. When the vitreous shrinks and doesn't properly detach from the retina, it pulls on the macular, the oval-shaped yellow spot at the center of the retina. Symptoms of macular traction include bright flashes, decreased visual clarity, and distorted sight.
JETREA dissolves the proteins that cause the vitreous to adhere to the retina, relieving macular traction. "JETREA has revolutionized the way we treat macular traction," said Dr. Ray D. Maizel, Mid Florida Eye Center's retina specialist. "No longer do these patients have to go through retinal surgery, which is typically followed by a lengthy recovery time, to get the treatment they need."
JETREA is available at any of Mid Florida Eye Center's four locations. To learn more about JETREA or to schedule a consultation, call Mid Florida Eye Center at 1-888-820-7878 (toll free) or 352-735-2020.
About Mid Florida Eye Center
Mid Florida Eye Center is full-service eye care practice that has served the Central Florida community for over 25 years. With five board-certified ophthalmologists, five optometrists, four office locations, and two state-of-the-art surgery centers, Mid Florida Eye Center is consistently recognized as one of the nation's leading eye care centers. For more information, please visit MidFloridaEye.com.