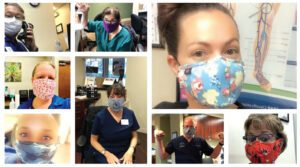 As your choice for leg health needs, Vascular Vein Centers celebrates 19 years serving Central Florida. We are proud of our continued presence in the Central Florida community and we are committed to many more years of service.
Vascular Veins Centers is your home for vein health. We are not affiliated with an institution or hospital, so our only focus is on our patients and the health of their legs. By treating venous disease, varicose veins, spider veins, lower leg swelling, achy & heavy legs we can help you have healthy veins for a healthy life.
VISIT OUR WEBSTIE TO BOOK YOUR NEW PATIENT APPOINTMENT ONLINE
MOST INSURANCES ACCEPTED INCLUDING MEDICARE
VVC COVID-19 UPDATE
With the current spike in positive COVID-19 cases in our Central Florida community, we strongly urge all our patients to follow Center for Disease Control (CDC) guidelines regarding face coverings. Those recommendations include wearing a face covering whenever in public places. A face covering is defined as any cloth material which covers the nose and mouth of an individual.
How we are keeping you safe  during the pandemic
Your health and safety are our primary concerns. We remain open and have enhanced our facility cleaning measures to comply with the latest from the CDC and Florida Department of Health. We are taking the necessary precautions to keep you safe including:
• Face Coverings are required by all staff and patients
• COVID-19 screening questions before your encounter
• Constantly disinfecting waiting rooms, bathrooms, and exam rooms
• Limiting the number of patients in the waiting rooms
• Providing you the option of remaining in hour car until your appointment time. Call us from your vehicle when you arrive, and we will provide instructions.
• Visitor Policy: At this time, it is best for everyone's safety that we do not allow non-patient visitors in our clinics. (Exceptions allowed for patients who need assistance.)
The staff at VVC want to thank you for your cooperation.
Vascular Vein Centers of Davenport / Haines City
121 Webb Dr Suite 300
Davenport, FL 33837
(863) 291-6313
www.PolkVVC.com
next to IMA Pichardo Clinic