Submitted by Hospice of Marion County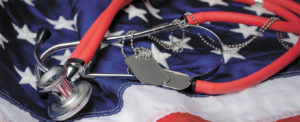 The medical needs of veterans are unique and require special care as there are usually other ailments affecting their health. These health issues go beyond physical pain from their battle wounds and can include things such as fatigue, memory, cognitive problems, PTSD and depression. A recent study in the Archives of General Psychiatry found that one in 10 Iraq war vets develop serious mental health issues such as violent behavior, depression and alcohol abuse.
As healthcare providers, we know that it's important to obtain a veteran's military history before treatment begins so that we understand which war(s) they have been in — that often tells us what types of chemicals they were exposed to, as well as types of infectious and parasitic diseases they were potentially exposed to while in service. Veterans from the Vietnam War were exposed to Agent Orange, and veterans who have served in the Middle East have potentially been exposed to the nerve agent Sarin. Many veterans have been affected by traumatic brain injury (TBI), a jolt or blow to the head, which is an effect of being near or in close proximity to explosions and unavoidable military activities. Symptoms of TBI are shorter attention span, language disabilities and the inability to process information. Recognizing these special needs of our veteran population requires that we understand and address their physical, emotional and psychosocial needs, while honoring their service.
In November, we'll celebrate National Hospice Month. As part of the month-long recognition of hospice care, we will be focusing on our veteran community. Hospice of Marion County is a proud member of the national We Honor Veterans program, currently with Level 4 status, and working to become a Level 5 partner, the highest level you can achieve. This program was developed by the National Hospice and Palliative Care Organization in collaboration with the Department of Veterans Affairs.
As part of this effort, our mission is to provide veteran-centric services to veterans in our community and on our service. Our social workers help our veteran patients understand all the benefits we can bring to bear in their life-limiting illnesses with a focus on the veteran's needs and goals. We routinely help veterans and their families navigate their VA benefits, assess what services are already in place and if further services may be needed, provide education on advance directive planning and education on palliative and end-of-life care. We also conduct veteran recognition ceremonies, honoring their service. Below are some of the upcoming events that are open to the public:
• Oct. 21 – Angel Guardian Medical Service Dogs, Inc. presentation by Carol Borden, CEO, Founder and industry expert, Elliott Center, 3231 SW 34th Ave., Ocala, 9:00 a.m. RSVP: (352) 873-7441
• Nov. 1 – Community Breakfast, presentation on Soul Injury by Deborah Grassman, Mental Health Nurse Practitioner and nationally known author, will share her insights on working with veterans at end of life. Elliott Center, 8:30 a.m. RSVP: (352) 873-7456
• Nov. 8 – Community Memorial Service, Elliott Center, 10:00 a.m. RSVP: (352) 873-7456
• Nov. 16 – Welcome Home Vietnam Veterans event, Hospice of Marion County Memorial Park, 2895 SE 62nd St., Ocala, 10:00 a.m. RSVP: (352) 873-7456
To learn more about Hospice of Marion County visit www.hospiceofmarion.com or call (352) 873-7400.