By Parveen Vahora, M.D.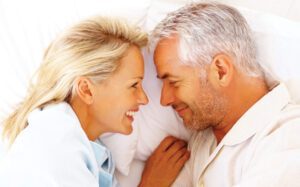 Sexual disorders can happen to both men and women. For women, it's often due to vulvovaginal atrophy (VVA). Intimacy issues can affect a partner's psychological wellbeing, just as much as it does with the one with the condition.
Dr. Parveen Vahora sheds light on vulvovaginal atrophy and how it affects women's sexual health. "The truth is that many pre and postmenopausal women, and even women that have recently gone through childbirth, have vaginal disorders, like burning, dryness and pain that they often withhold and keep to themselves. Most women think that it's just a 'normal' part of the hormonal process, but they don't have to live with this condition! There are many options to relieve vaginal and vulvar atrophy.
"Due to the limited estrogen supply, the walls of the vagina start to thin out, causing dryness, and inflammation. The opening of the vagina is the vulva, and dryness of the vulva can cause pain at the onset of intimacy. intercourse can be very painful and cause urinary symptoms and pain. It can also interfere with daily activities for many women due to the extreme pain and discomfort that it can cause.
"There are many options for women, like creams, medications, and surgery, but they all pale in comparison to an innovative procedure that is not hormonal, has no side effects, and only takes a few minutes to perform right in the convenience of my office. This advanced technology is called the MonaLisa Touch®, and it's helped countless women treat their vulvovaginal atrophy and associated symptoms and pain. Women get their confidence and sexual health back to how it was when they were younger."
MonaLisa Touch®
This innovative laser therapy is for the vagina and vulvar. There are no medications, not cutting and no lengthy healing times with this procedure. It's similar to having a Pap smear test done. The laser does not hurt or cause any pain. You will only feel tiny vibrating sensations from the machine, and the best part is that the entire procedure is accomplished in an outpatient, office setting.
The laser assists with the bodies cell renewal and regenerates the mucous membrane and help with the restoration of collagen and renewing the proper trophic balance to the membrane. MonaLisa Touch® is a functional vaginal rejuvenation treatment based on a unique fractional CO2 laser. This device was created specifically for the vaginal mucosa and is presently the most effective procedure for preventing and treating vaginal atrophy and its painful conditions.
Now it's possible to have relief from vulvovaginal atrophy due to the MonaLisa Touch's® ability to gently improve the tissue of the vulvar and vaginal mucosa. With this treatment, women no longer have symptoms of dryness, pain, itching, or irritation. Women are able to enjoy intimacy once again. The MonaLisa Touch treatment also helps urinary symptoms such as incontinence and urgency.
Rejuvenate Your Sex Life
You and your partner will both benefit from this procedure, as intercourse will be pain-free and pleasurable once again. Mona Lisa Touch allows restoration, healing, and a renewed enjoyment of each other. You'll be amazed at how effective this procedure gets you back to where you once were in your relationship.
Parveen Vahora, M.D.
Dr. Parveen Vahora's office offers advanced and individualized care. Their office is small, intimate, and welcoming. Women under their care are treated with the utmost respect, which means they offer personalized care: educating on conditions and treatment options as well as preventative measures. Their focus is on sexual health, and they are proud to offer the MonaLisa Touch® for patients going through menopause as well as post-menopausal women, breast cancer survivors, and those suffering from pain during intercourse or intense dryness. They specialize in providing minimally invasive surgery options as well. They also offer genetic testing for breast, ovarian, and colon cancer. From birth control to robotic surgery, they've got you covered.
To find out more, please visit ParveenVahoraMD.com or email info@ParveenVahoraMD.com.