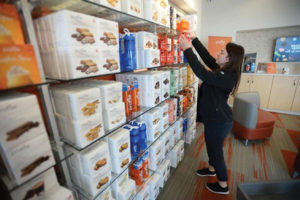 For most individuals, weight loss is often a very long journey with many turns, twists, and bumps in the road. 70 million adults are obese in the U.S., and even more are considered overweight. Being overweight can cause significant health issues. It can lead to high blood pressure, high cholesterol, high triglycerides, and visceral fat, which are significant risk factors for diabetes, heart disease, cognitive decline, and coronary disorders.
With fad diets, extreme lifestyle disruptions, unhealthy diet pills, and other means to control appetite, over the years, most people have lost a few pounds, only to regain them rather quickly once they stop using those means. It's time to stop the cycle—There is a better way!
Instead of doing things the same old, outdated way, it's time to take your weight loss serious and it's time to get the right information and plan of action that's tailored for you.
Profile by Sanford
Profile® by Sanford® is changing the way people approach weight loss. We create a personalized nutrition, activity and lifestyle coaching program designed to help members lose weight and keep it off. Our dedicated team of Certified Profile Coaches educate and motivate members through every stage of your weight loss journey. Best of all, the personalized weight loss program is designed to instill internalized habits that will allow you to maintain the results for years to come.
At Profile® by Sanford®, we know there's more to losing weight than counting calories and points. That's why we created Profile Precise – a test that harnesses the power of genetics to map your DNA to a nutrition plan tailor-made to help you reach your goals.
Profile Precise is our latest innovation to help take the guesswork out of healthy lifestyle change. The test analyzes how your body metabolizes carbohydrates, providing you and your Certified Profile Coach with information to more effectively guide you on your weight loss journey.
DNA Testing via the Profile Precise Plan is Backed by Science
Profile's research and development efforts all have two things in common: They must be backed by real science, and they must help members achieve lasting lifestyle change. Working closely with the Profile Clinical and Scientific Advisory board, Profile leveraged some of the brightest minds in research and genetics at Sanford Health to develop Profile Precise. The test integrates the science of nutrigenetics into our nutrition, activity and lifestyle coaching platform. By understanding how your body responds to certain nutrients based on your genetics, we use your Precise C-Score to create a personalized weight loss program that works with your body, not against it.
DNA Testing is done at the adapt and sustain phase and it helps to design your lifestyle.
PROFILE BY SANFORD's HISTORY
Profile began in 2011 when Sanford Health CEO Kelby Krabbenhoft challenged the organization to create a weight loss program rooted in science and research. Profile's first Clinic and Scientific Advisory Board came together to assemble all the pieces of a comprehensive program designed to set in the industry standard for how nutrition, activity and lifestyle coaching is delivered. Less than a year later, Profile opened its first retail location. Today, our results-oriented approach continues to fuel our growth.
Sanford Health is an international integrated healthcare system that provides care for hundreds of communities across multiple continents. With 45 hospitals and 289 clinics worldwide, Sanford is one of the world's largest healthcare providers.
Profile by Sanford is a top-rated weight loss program in Carrollwood, FL
Why Profile by Sanford – Tampa, FL- Carrollwood Is Right for You
We are proud to help Carrollwood residents achieve healthier lifestyles through custom-tailored weight loss plans. Created by Sanford Health physicians, Profile by Sanford – Tampa, FL- Carrollwood members receive one-on-one coaching and an effective support system that helps you achieve your health goals, reach your desired weight, and maintain your new lifestyle.
Limited Time Offer:
Get a free consultation and join the program for half off!
Get a more personal touch to achieve the results you need. Call Profile by Sanford – Tampa, FL- Carrollwood at 813-497-7212 today!
profile sandford
weight loss & health care
14837 N Dale Mabry Hwy.
Tampa, FL 33618
813-497-7212 | www.profileplan.com