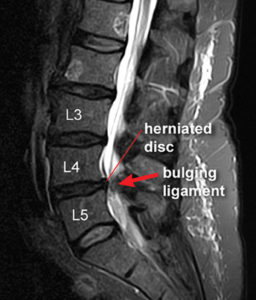 Approximately 3 million people each year are diagnosed with disc herniations. When the inside of the spinal disk, which is a soft gel-like substance called nucleus pushes through the vertebrae, this is known as disc herniation. It causes the disc to seep through a crack in the boney exterior (annulus). In many cases, herniated discs permeate pain in the arms and legs due to irritation of nearby nerves and can be quite debilitating.
DISC HERNIATIONS—MINIMALLY
INVASIVE TREATMENT OPTIONS:
Diskom
The Diskom procedure relieves pressure on both spinal cord and nerve roots by removing the (gel-
like) disc herniation through an advanced process. It's done under fluoroscopy through an access needle with a small hand-held device. This technique provides fast healing and rehabilitation, the procedure is short (15 minutes), and it is able to treat thoracolumbar and cervical spine herniations.
HydoCision
The HydroCision System has several device options that permit a safe and predictable minimally invasive approach for disc decompression procedures. The HydrosCision devices are specifically designed to deliver a nonthermal stream of saline at controlled velocities to remove the disc nucleus while sparing the outer annulus and vertebral endplates.
HydroCision decompresses herniated discs, and surgeons can control how much of the nucleus they remove. The nonthermal element eliminates the risk of soft tissue damage. This procedure reduces herniations from occurring again.
There are other minimally invasive treatment options and regenerative methods for the treatment of herniated discs or other spinal conditions that may be causing you pain and limited mobility. Although surgery is critical in certain situations, finding alternative methods to treat the underlying condition is always the first step. The National Institute of Pain is a state-of-the-art facility that specializes in the treatment of spine and orthopedic conditions, as well as acute and chronic painmanagement. They provide the utmost quality of care for patients to address the problem directly, and if needed, provide for their pain management needs.
Sunil J. Panchal, MD
The National Institute for Pain
At the National Institute of Pain, they treat each patient individually, using the latest equipment and various innovative procedures to diagnose pain and determine
your care needs. The National Institute of Pain's President and Founder, Sunil J. Panchal, MD, is a board-certified interventional pain/ minimally invasive spine physician. He earned his Bachelor's degree in Biology from Rensselaer Polytechnic Institute in Troy, NY, and earned his medical degree from Albany Medical College of Union University in Albany, NY. In addition, Dr. Panchal completed The Business of Medicine Graduate Program at Johns Hopkins University in Baltimore, MD. Dr. Panchal completed an internship in general surgery at the University of South Florida in Tampa, a residency in anesthesiology at Northwestern University in Chicago, IL and a fellowship in interventional pain medicine at the University of Illinois in Chicago. He previously served as co-director of the chronic pain service and director of the multidisciplinary pain fellowship training program at Johns Hopkins University and subsequently as director of the division of pain medicine at Cornell University in New York. He is a member of the North American Spine Society, the North American Neuromodulation Society, the International Neuromodulation Society, and the American Academy of Pain Medicine. Dr. Panchal has authored numerous peer-reviewed journal articles and has served as a reviewer and editor for several journals. He is the co-editor and co-author of the textbook Comprehensive Treatment of Chronic Pain by Medical, Interventional, and Integrative Approaches (2013). Dr. Panchal is a principal investigator in numerous clinical trials, including a current study evaluating sacroiliac joint fusion. Dr. Panchal also served as the Chair of the National Comprehensive Cancer Network Cancer Pain Panel and has lectured widely at the national and international level. He is actively involved in the development of novel analgesics and neurostimulation devices, and in clinical research protocol design.
At The National Institute for Pain, their goal is to strive to deliver the highest quality of comprehensive care for those who are suffering from spine, joint, and nerve injuries. They have many alternatives to help you with your personalized treatment needs. Please visit their website at www.nationalinstituteofpain.org, or call them at (813) 264-PAIN (7246).
The National Institute of Pain
4911 Van Dyke Rd., Lutz, FL 33558
10740 Palm River Rd, Suite 490, Tampa, FL 33619
(813) 264-PAIN (7246)
www.nationalinstituteofpain.org