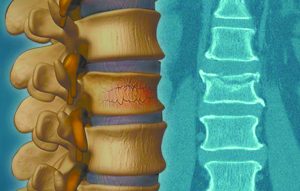 What if you develop sudden onset severe back pain, more unbearable than you ever imagined? If your pain is new or feels different from the chronic back pain you may already be experiencing – which is currently being treated with exercise, pain medicines, and injections – it is recommended that you visit your doctor or urgent care center immediately, because you may have a vertebral compression fracture in your spine.  If you are able to pinpoint your pain with the touch of a finger to a specific vertebra, it is important to act quickly or it may become too late to repair it.
What is a compression fracture and why is time of the essence? A compression fracture is when a vertebrae cracks and becomes compressed or somewhat flatter than it was before the fracture. Think of an elderly person with a hunchback or curved spine.  A hunchback, medically known as  kyphosis, is often caused when the bones become frail and brittle from osteoporosis (loss of bone density) and the vertebrae begin to fracture one by one. As these vertebrae fracture, they become misshapen. The rectangular vertebrae become triangular or wedge-shaped, eventually creating a curve in the spine.
Once a vertebrae fractures it will heal on its own, but it takes several weeks or even months to do so, during which time the pain is often unbearable. In the past, doctors would put patients in a brace and prescribe medication, often in the form of narcotics, to help ease this pain. When the compressed vertebrae heals on its own, it heals in its compressed state or compresses even further, sometimes flattening completely and reducing the height of the individual. At this point, nothing can be done to restore its integrity since the bone has hardened, making it impossible to fix.
Compression fractures can also be caused by an impact such as a fall, or from cancer which has metastasized to the spine. Unfortunately for many, a compression fracture can be a first indication of cancer, so do not ignore this sign – get a consultation immediately. If you had an X-ray, CT, or MRI indicating a compression fracture, insist that your physician acts quickly to refer you to a specialist for a kyphoplasty or vertebroplasty.
With a procedure called kyphoplasty, kyphosis can be a thing of the past!  A Kyphoplasty procedure can stop pain instantly in over 95% of patients, as well as prevent further collapse of the vertebrae. During the procedure, the physician uses image-guidance in the form of a C-ARM (which is a live X-ray) to obtain access and inject a plastic cement into the vertebrae to restore the integrity of the bone, often stopping pain completely and preventing further damage. The procedure is performed under conscious sedation and takes approximately 30 minutes under the expertise of an experienced specialist, such as an Interventional Radiologist. Although other specialists are now performing this procedure, an Interventional Radiologist should be your first choice, as they pioneered the procedure, and any image-guided procedure should always require a person trained in radiation safety.
Interventional Radiologists believe that limiting X-ray exposure to patients is crucial, which is something often overlooked by other physicians.  An Interventional Radiologist such as Dr. Mark Jacobson, uses a mere fraction of the typical radiation exposure used by other specialists, including other radiologists. An Interventional Radiologist also uses minimally invasive surgical techniques with the least number of punctures (usually one per vertebra) and the smallest needles possible, thereby enhancing safety and reducing healing and recovery times.
In the case where a compression fracture is caused by a cancerous lesion, an Interventional Radiologist can also biopsy the bone and perform a radiofrequency ablation to alleviate pain prior to the kyphoplasty (this is not a replacement for, but complimentary to radiation treatments, because if a patient is in less pain, the treatments can be tolerated better). This is why it is imperative to understand that not just anyone should perform your kyphoplasty, but someone trained in identifying the difference between a simple fracture caused by osteoporosis, and a fracture caused from a possible cancerous lesion. A trained expert will be able to offer to you the best options available.
Dr. Jacobson performs hundreds of kyphoplasties each year in his Lady Lake center and is the "go-to provider" for this procedure, not only because of the number of procedures performed and numerous happy patients, but also because of his participation in the research of radio-frequency ablation of cancerous spine tumors. Local, as well as out of town physicians entrust Medical Imaging & Therapeutics for treatment of their patients' spine fractures. MIT is affiliated the University of Florida College of Medicine as an Interventional Radiology training center for physicians in the interventional radiology residency and fellowship program.
MIT
352-261-5502  |  mitflorida.com
facebook.com/mitflorida
The Summit Medical Park
769 Co Rd 466, Lady Lake, FL 32159