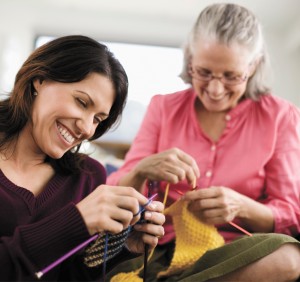 The holidays are over and it's back to work for most of us.  You and the family were fortunate and spent the holidays with mom and dad.  The kids were so happy to spend the holidays with your parents and it warmed your heart, but there is still one concern bothering you.  You noticed mom's memory has become worse and dad is not doing as well taking care of her.  You are worried neither is eating right and mom was picked up by the police two weeks before Christmas for wandering off.  When they picked her up, she was confused, scared and not sure where she was.  Your father on the other hand had not even noticed she left the house.  Now you are back home, 500 miles away and realize you must do something to help….but what?  Where do you turn?  Who can help?  How much is this going to cost mom and dad or do they even have enough income?  What will happen to dad if mom moves to a place where they can help her?
These are questions facing more and more adult children every day.  Baby boomers are coming of age and over the next 20 years these boomers are going to need more help.  Most of us have heard of "nursing homes" and for some of us, this is the extent of our knowledge when it comes to alternate senior living arrangements.  I can remember as a kid going to see my grandmother in her nursing home.  It terrified me and reminded me of a hospital.  Wow, things have changed over the years!  Today, assisted living communities strive to make residents feel comfortable, safe, and at home.
There are different types of senior living arrangements that range from independent living to skilled nursing.  An independent living community provides the accommodations and assistance needed and residents have the freedoms to live as they choose.  Most offer three meals a day which is included in the monthly rent as well as utilities and sometimes even laundry.
The next "level" up from independent living is assisted living.  An assisted living facility (ALF) is for seniors who need some assistance with their activities of daily living or ADLs. ADLs include eating, bathing, dressing, laundry, etc.  If a senior is having trouble with any of these, assisted living would probably be the best choice because they provide trained staff 24/7 to assist and monitor the residents.  While ALFs do not provide medical assistance, the facility will regularly transport their residents to medical appointments.  Additionally, these communities often provide a monthly social calendar, shopping trips, games, crafts, and many other fun and social activities.
If a patient needs more care than an assisted living facility can provide, they may need a skilled nursing facility or SNF.  A SNF will offer all services provided by that of an ALF along with medical needs and rehabilitation.  If a senior requires injections, is recovering from surgery, or needs special rehab on a daily basis, then a skilled nursing facility may be appropriate.
In the above example, mom would be a great fit for an assisted living facility with memory care.  The fact that dad can't take care of mom anymore and may not be eating right may drive you to more action.  Dad may be fine with an outside agency coming in and cleaning and preparing meals for your dad, but he may also need assisted living.
Transitioning from home to an ALF or a SNF can be a confusing process.  Simplify the process and let us do the research for you. There are many assisted, independent and skilled nursing communities in Ocala and the surrounding areas, and each community offers something a little different.  Call Jerry today at Assisted Transition at 352-537-8766 and as always there is NEVER a cost to you for this service.