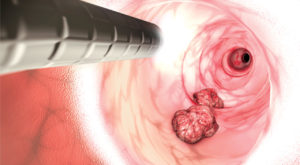 Colon cancer is fairly easy to diagnose, but it's 100% up to the individual to get a colonoscopy. Colon cancer is the third most common type of cancer in the United States. It affects nearly 50,000 Americans each year. If caught early on, it can be treated. Typically, there are little to no signs or symptoms of colon polyps, so it's critical to have colonoscopies every 10 years, or as recommended by your physician. In 2018, the American Cancer Society updated screening guideline recommendations for persons at average risk to begin colon cancer screening at age 45. The previous recommendation was age 50.
Colon polyps go unnoticed most of the time, affecting upwards of 200,000 people a year. Polyps are cell growths on the lining of the colon or large intestine. There are diagnostic tests through lab work and imaging that can detect these polyps. If you have them, it's best to have them removed because polyps can turn cancerous and proliferate. However, polyps don't turn cancerous in every case, but your risk of developing cancer increases with the number and size of colon polyps you have. When they do turn cancerous, polyp cells divide and can quickly multiply within the colon and rectum.
According to the American Cancer Society (ACS), 50% of polyps greater than 2 centimeters in size are cancerous, and approximately 1% of polyps with a diameter less than a centimeter are cancerous. The ACS recommends having all polyps removed (no matter the size) and having a follow-up colonoscopy within a time-frame recommended by your physician. The ACS also suggests that if the polyps are any bigger than 1 centimeter, or if you have more than one, that you are considered at higher risk for colon cancer.
Later-Stage Symptoms
• Constipation
• Abdominal bloating
• Abdominal pain
• Excessive gas
• Diarrhea
• Bloody stools
• Narrow stools
• Weight loss
• Vomiting
• Nausea
• Fatigue
The number one risk factor is age; however, even younger people can develop colon cancer, especially if they have a family history of the disease or lifestyle and health conditions that impact risk.
Lifestyle Risk Factors:
• Being over age 45 (or younger in some cases)
• Family history
• Smoking
• Obesity
• Poor Dietary habits
• Excessive Alcohol Consumption
Health Conditions That Can Lead to Colon Cancer
• IBD (Inflammatory Bowel Disease)
• Crohn's Disease
• Ulcerative Colitis
• History of breast, uterine or ovarian cancer
• Lynch Syndrome
How Your Diet Can Lower Your Risk
Dietary changes can resolve some of the risks of developing colon cancer. The USDA recommendation for 5-9 servings of fruits and vegetables daily is due to the antioxidants and fiber, which can help to ward off diseases and also to keep the colon healthy and functioning properly. Numerous studies over the years have indicated that diets rich in mammalian muscle meats (cow, pig, etc.), cheese and processed foods increase the odds of getting colon cancer by nearly two times their plant-based peers.
Studies also indicate that whole grains are beneficial for colon health. Therefore, a diet rich in produce, rice and quinoa with smaller amounts of meat and processed foods may factor in lowering colorectal cancer risks. Eating plant-based foods, whole grains, fish with limited amounts of dairy, eggs, sugar, and meat is optimal for overall health.
Screenings Save Lives—Get a Colonoscopy!
It's imperative to talk to your physician about protecting yourself and your loved ones who may be at risk for colorectal cancer. Getting a colonoscopy screening is critical for adults with risk factors or over the age of 45. A colonoscopy is an easy procedure and one that can literally save your life. If the polyps are discovered, they can be removed surgically during a colonoscopy or a sigmoidoscopy. If cancerous, chemotherapy or radiation is usually unnecessary as a secondary treatment. It's always best to be proactive in your colon health, rather than waiting and finding that the cancerous polyps have grown and spread into other organs. Talk to your doctor about scheduling your colonoscopy today.
Florida Medical Clinic
Gastroenterology
Dr. Joseph S. Cody is a board certified gastroenterologist. He is a voluntary faculty member with USF College of Medicine.
Digestive health requires expert, comprehensive care. In addition to providing general consultations, our gastroenterologists care for patients with diseases or disorders of the pancreas, liver, gallbladder, esophagus, stomach, small intestine and colon.
At Florida Medical Clinic, We are committed to making gastroenterology care as convenient as possible. Our gastroenterologists work hand-in-
hand with your primary care physicians and other specialists, sharing test results and treatment plans instantaneously through our electronic health records system. And many of our gastroenterology locations offer specialty services on-site, such as antibiotic infusions and lactose breath testing. This allows you to worry less about traveling from clinic to clinic and focus on what's most important: feeling better.
To learn more about gastroenterology care at Florida Medical Clinic, contact us today.
Florida Medical Clinic
813.280.7100
www.floridamedicalclinic.com