T.E. Vallabhan, MD, FACC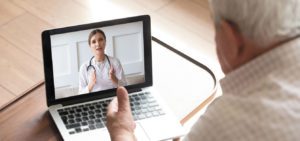 Many people are avoiding going to the doctor for essential conditions because they are leery of their safety and fear exposing themselves to COVID-19. However, if you have a heart disorder or new cardiac symptoms, it's imperative to stay connected with your cardiologist, but how do you do that if the office is still closed?
Dr. Vallabhan understands the importance of continuity of care and personalized medicine for his patients. These needs are what influenced him to implement telehealth early on during the pandemic. Dr. Vallabhan explained, "As we've been navigating telehealth virtual visits with our patients as a new and novel idea, it's proving to not only be a necessity in patient care, but also it is creating a more engaging and easier process for many patients that might struggle with getting to the office. We are also able to walk them through some diet, exercise and stress reduction protocols, which are always essential for overall health and wellness. Because we are all experiencing this together, I feel that it's allowed our patients to connect with us in a different way, one that has created a new level of compassion and understanding."
Dr. Vallabhan continued. "If my cardiac patients miss appointments, or ignore their symptoms, many times they will end up in the emergency room. If we can evaluate and assist patients with prescriptions, recommend imaging or lab work and check their vital signs virtually, it's a thorough process that will keep them safe and well monitored for the time being. However, we will soon reopen our office, under stringent protocols to protect our patients and staff, and we are seeing patients in-office that are in need of urgent cardiac care or testing."
COVID-19 is causing undue stress
One of the most overlooked strains on the hearts is—anxiety. According to the American Heart Association, More research is needed to determine how stress contributes to heart disease — the leading killer of Americans. But stress may affect behaviors and factors that increase heart disease risk: high blood pressure and cholesterol levels, smoking, physical inactivity, and overeating. Some people may choose to drink too much alcohol or smoke cigarettes to 'manage' their chronic stress; however, these habits can damage the heart and vascular system.
When stress is constant, your body remains in high gear off and on for days or weeks at a time. Although the link between stress and heart disease isn't clear cut, chronic stress causes an increase in blood pressure, which damages the artery walls.
If you are having any new or intensified symptoms, do not ignore them!
If you are interested in scheduling a telehealth visit, please call the office as you normally would and schedule a virtual consultation. In-office visits are also available if necessary.
Even through uncertain times like these, you can trust that Dr. Vallabhan will be here for you and your cardiology care!
Dr. Vallabhan
352-750-2040
Rolling Oaks Professional Park
929 N US HWY 441, Suite 201
Lady Lake, FL 32159