By Parveen Vahora, M.D.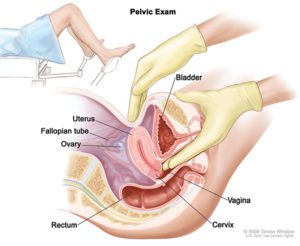 As with the majority of diseases and disorders, gynecological issues will have optimal outcomes if they are diagnosed and treated early. During a regular gynecologic wellness examination, physical symptoms are not only examined, but screening and critical diagnostic testing is recommended and done. If you have any irregularities, further testing will be recommended for your specific needs. Problems can be identified and solved.
Every woman needs a gynecological evaluation and examination at least once a year. Most insurances cover the gynecological wellness once a year with no cost (no copay, coinsurance or deductible) for patients are under 65.
Gynecological Examinations Recommended by Age
• Girls between 13-20 should have a reproductive health discussion and/or an examination with a gynecologist.
• Annual exams (breast and pelvic) should be provided upon sexual activity or at the age of 21.
• Pap tests should be included upon sexual activity,  abnormalities/symptoms, or at the age of 21.
• Women between 21 and 65 years of age, should continue to have annual wellness examinations and PAP tests.
• Women older than 65 should continue to have gynecological examinations on a regular basis.
Most insurances limit the breast/pelvic/pap to every 2 years. But the problem visits are unlimited.
Women who are going through or those that have gone through menopause or surgical removal of ovaries/uterus should continue to see a gynecologist to regulate hormones, diagnose osteoporosis, discuss vaginal atrophy solutions (painful sex), and examine breast and pelvic region for masses, growths or abnormalities.
What Can be Detected?
During the discussion with Dr. Vahora or Connie Moler APRN they will address your gynecological health and determine what is needed, testing and or treatment.
A pelvic examination allows your gynecologist to check your vulva, vagina, cervix, uterus, ovaries rectum, and pelvis. A PAP test will screen you for cervical cancer or pre-cervical cancer. STD and HIV testing are also recommended for specific age groups and sexually active individuals. Undiagnosed STDs can lead to permanent reproductive damage and other adverse conditions.
Cervical Cancer was once a leading cause of death in women. Those statistics have changed. In fact, diagnosing precancerous cervical lesions is now more common; this is achieved through preventative pap smear tests. Women that receive annual Pap tests are preventing cervical and other genital cancers. When these precancerous lesions are discovered early, they can easily be treated and monitored right in your gynecologist's office. However, this is another reason why you should NEVER skip your annual wellness examination.
The majority of cervical cancer and pre-cervical cancer diagnoses are related to or caused by the Human papillomavirus (HPV) infection.
The Symptoms of Cervical Cancer are Sometimes Vague, but May Include the Following:
• Abnormal menstrual bleeding
• Bleeding after intercourse
• Bleeding after menopause
• Pain during sex
• Pelvic Pain
• Spotting
• Vaginal discharge
• Back Pain
The HPV vaccine is highly recommended for teens, young adults and up to the age of 45 years old to prevent the HPV virus that causes cervical and genital cancers.
HPV Facts & Treatment
Human papillomavirus infection is the most significant risk factor for developing cervical cancer. HPV is made up of 150 viruses and can infect the cells of the cervix and spreads through sexual encounters, as well as be passed down through childbirth. Other risk factors that exacerbate or lead to cervical cancer are early age of intercourse, multiple partners, a weakened immune system, smoking, chronic infections, having a child in your teenage years, and having multiple full-term pregnancies.
The Silent Danger of Genital Cancers
There are little to no signs or symptoms of cervical cancer and other genital cancers, so the most proactive way to prevent these cancers from growing is to have regular gyn examination on a routine basis. The evaluation will show signs or symptoms of precancer or cancer. In the gynecologist's office, they can do a simple test to see where the cervical cancer is and can evaluate its severity. Usually, if caught early enough, the cancerous lesions can be removed right in the comfort of the office.
Wellness Exam & Pap Smear
Women should have a preventative wellness examination once a year. For women with gynecological conditions such as a history of HPV, precancer, cancer or other genital disorders, they may need more frequent exams as directed by their gynecologist to monitor their needs and to keep them healthy.
The Latest Guidelines for PAP Smear are as Follows, if you no symptoms:
• Women aged 21–29 years should have a Pap test alone every 3 years. HPV testing is not recommended.
• Women aged 30–65 years should have a Pap test and an HPV test (co-testing) every 5 years (preferred). It also is acceptable to have a Pap test alone every 3 years.
If you have a history of precancer or abnormal pap smears or abnormal bleeding or any other symptoms, you will need to have a pap smear every year.
Most insurance covers a pap smear as part of your yearly wellness examination once a year. It's best to see your gynecologist or woman health care provider yearly for your wellness, and they can decide with your history whether you need a pap smear or not. Do not put off your annual gynecological exam. Prevention is the key to maintaining your health.
About Dr. Vahora
As a board-certified, fellowship-trained laparoscopic gynecological surgeon, Dr. Parveen Vahora takes care of the entire woman, from child-bearing years through menopause and elderly treatment. At her private practice, she made the deliberate decision to focus solely on gynecology in order to provide the highest quality of care, focusing on getting to know each of her patients on a personalized level to foster long-term relationships. Dr. Vahora believes there is more to a woman than her uterus, and she works to inspire women to live their best life by providing compassionate care.
Dr. Vahora completed a fellowship in laparoscopy and pelvic surgery at Celebration Health, Florida, after her OB/GYN residency at Drexel University. Having performed the first single-site hysterectomy in North Pinellas County, she is highly acclaimed by her peers. She is loved by her patients because she truly listens to their thoughts and concerns. She was also the first physician in the area to offer patients the innovative MonaLisa Touch laser procedure. Dr. Vahora specializes in minimally invasive surgical techniques and adopts principles of Enhanced Recovery After Surgery (ERAS), designed to achieve early recovery for patients undergoing major surgery.
About Connie, ARNP
When it comes to women's health, the individual is Connie Moler's highest priority. She believes caring for a patient means taking the time to understand their concerns, and what is unique about
their situation. Connie received her Bachelor's Degree in Psychology from Indiana University before going on to Vanderbilt University, where she earned her Master's in Nursing. She knew early on that she wanted to work with women, and she became a board-certified Women's Health Nurse Practitioner soon after graduating. She then went to work at The Women's Group Of Northwestern in Chicago, where she practiced for ten years. After a decade at that prestigious institution, she and her family moved to Florida, where she worked at Partners in OB/GYN in Tampa for thirteen years. Partners in OB/GYN is a large practice, and home to a team of fantastic doctors, but Connie was thrilled when the opportunity arose to work at Dr. Vahora's private practice.
Inspiring Women to Live Their Best Life by Providing Compassionate and Personalized Care.
FOR APPOINTMENTS CONTACT US:
Email info@ParveenVahoraMD.com
Text Line: (813) 548-4412
Phone Line: (727) 376-1536