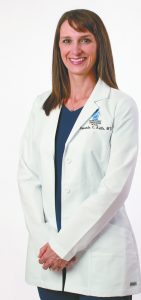 Radiology Associates of Ocala (RAO) has been a local leader in diagnostic and interventional radiology services for decades, and providing state-of-the-art technologies and procedures ahead of its competitors has been one of the hallmarks of the practice. But there is more to a specialized field like women's imaging than just the latest and greatest advances in diagnostics – there is the added element of a woman's perspective, which is important in supporting and empathizing with patients. That's why RAO is proud to have Board Certified radiologist Dr. Amanda Aulls as its Medical Director of Women's Imaging Services at its Women's Imaging Center and TimberRidge Imaging Center. A specialist in diagnostic radiology, neuroradiology and breast imaging, Dr. Aulls provides an added element of understanding and unity to women's health services, and it shows in all aspects of RAO's system of care, from its highly trained patient support team to its panel of technologists, who perform their duties with incomparable dedication and sensitivity.
"Of course all people deserve diagnostic accuracy, speed and compassionate care, and RAO is committed to those ideals with each and every patient," says Dr. Aulls. "But as a woman I can tell you there is a feeling of security knowing that the umbrella of women's diagnostic services is overseen by someone who personally relates to every aspect of the experience. After all, you can't know what it is to have a mammogram unless you've had one yourself."
For Dr. Aulls, RAO's deep involvement in patient care supports greater accuracy, quicker turnaround and less patient anxiety. "We were the first local practice to offer 3D Mammography™ examinations, which enable superior early discovery, especially among the roughly 47% of women who have dense breast tissue, and it produces far fewer false positive results. Our radiology team not only subspecializes in women's diagnostic services, we also read all imaging results in-house, instead of sending them out to a third party like a lot of practices do. People who come to see us are our patients, and their imaging matters to us. There's no assembly-line approach here that might diminish our accuracy, compassion or direct interaction with referring physicians. We deliver the kind of care we'd want for our family members, our friends and ourselves."
Because mammograms are reviewed on site, RAO can perform followup imaging or image-guided biopsy the same day when required, to get quicker answers and reduce patient worry. This philosophy of both diagnostic and emotional care is applied to all breast imaging services, from 3D Mammography™ exams to stereotactic breast biopsy to breast MRI and ultrasound, as well as other women's services, like pelvic
ultrasound and DEXA bone density testing.
RAO's advanced technologies, comprehensive array of services and ongoing accreditation have earned its women's imaging centers the elite Breast Imaging Center of Excellence designation from the American
College of Radiology.
"I feel privileged to be RAO's Medical Director of Women's Imaging," says Dr. Aulls. "My years of education, specialized training and experience make this post the perfect way to help women seeking a quick, accurate and caring answer to a medical question. That's what I call synergy."
For more about RAO's Women's Imaging Services, visit www.raocala.com or call 352.671.4300.