Freedom Pointe at The Villages – a Brookdale Life Care Community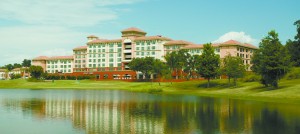 Our community gives you the freedom to enjoy life as you choose today with assurance that you have a full continuum of care options for tomorrow.
The Life Care Program
Life Care empowers residents to lead a dynamic lifestyle with choices to meet their changing needs. The program is secured with an Entry Fee purchase that covers both the cost of your future accommodations, as well as discounted healthcare services, if or when needed.
Moving through our care continuum is simple and affordable. If you need more care, you'll benefit from significant savings, and your costs will be stabilized. You'll also have peace of mind knowing that if your needs change you'll have a place to call home in the same community you already love.
Choosing a Brookdale community means never having to compromise your quality of life. By combining elegant accommodations with fine amenities and features, our Life Care communities nationwide are highly regarded within the neighborhoods we serve.
Best of all, the program comes with a Life Care Guarantee* which promises your accommodations are guaranteed for life, even if your assets are exhausted through no fault of your own.
Entry Fee Advantages
As a resident of our community, you'll benefit from:
• Discounted healthcare
• The option to fund your entry fee from the sale of your home
• Extensive selection of Independent Living accommodations
• Full continuum of care services on campus
• Estate preservation
• Tax deductions relating to entry fee and monthly fees
• An up-front entry fee will stabilize your future monthly costs, if your level of care increases
• Predictable long-term expenses
• Asset preservation with Entry Fee refund
• Life Care Guarantee*
Independent Living
At Brookdale you can make every moment of your retirement count. That's because the Independent Living experience at Freedom Pointe at The Villages provides dynamic options to make the most of your retirement years. With fine features, distinctive amenities and attentive service, you will feel right at home.
As a resident, you will have the convenience of restaurant-style dining, housekeeping, laundry and transportation services in a location near popular attractions, shopping and restaurants.
Hospitality and wellness are also key components to Independent Living in our community. With a number of planned activities and award-winning programs, you'll have many entertainment options.
Engage your interests, passion and purpose with life enriching options such as our B-Fit exercise program and Brookdale Celebrates, which combines culinary and educational offerings with themed experiences, special events and group activities that spotlight different cultures and cuisines.
At Freedom Pointe at The Villages, dining is more than a meal; it's an experience. With thoughtfully crafted, well-balanced menus created by our Culinary Arts Institute, our passion for great food and service is evident.
Come see how our exceptional blend of hospitality, service and continuum of care give you the freedom to live life as you choose.
Call us today at (352) 674-3100 to schedule your personal visit.
*This guarantee is subject to the terms and conditions of the Residency Contract. See the Residency Contract for further details.
Freedom Pointe
1550 El Camino Real, The Villages, FL 32159
352.674.3100 |
brookdale.com