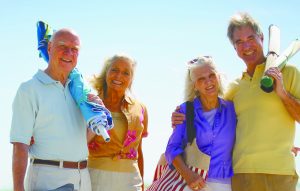 As snow birds head back, and triple digits creep upon us there are some general rules that can help us stay safe during the warm summer months in Florida. Whether you believe in global warming or not there is one fact you can't deny, it gets really hot in Florida every summer. In fact, 2016 reported some of the warmest numbers nationwide. Although staying cool during the summer is common sense, there are a few things we can do to make that process better.
Here are some general tips to enjoy your summer.
l) Adjust your thermostat. Keeping your home at tolerable temperatures without burdening the electrical grid or your home A/C system makes good sense. Don't crank up your A/C and set the thermostat to 68! Keep it at a comfortable temperature (74-78 Fahrenheit). Use an energy efficient fan if you enjoy a gentle breeze to feel cooler. This can prevent over burdening your AC and electrical grid when the outside temperatures reach triple digits. Make sure windows and doors are kept closed to prevent cool air from escaping regularly. This will save you lots of money on cooling during the summer as well.
2) Hydrate adequately. Some of you may be on diuretics and blood pressure medications that may further affect your hydration during the summer. While hydration is very important, talk to your doctor about safe limit of hydration during the summer, that depends on your specific medical conditions. Avoid too much alcohol and caffeinated drinks which often tend to dehydrate rather than hydrate.
3) Avoid excessive times spent outdoors. While it's important to trim your hedges keep your lawns looking great, and playing 18 holes of golf be aware that spending long hours out in the hot and humid sun can increase risk for dehydration and heat strokes. Find ways to stay in the shade when you can, consider early morning golf games and lawn care later in the afternoons, when the sun is not directly above you. (Fun fact: lawns are easier to mulch and cut when the grass is not damp). Don't forget to use a good sun screen for those areas of skin that frequently get burned in the sun. Frequent sun burns can increase risk for wrinkles mottling and increase risk for skin cancer over time.
4) Dress for the summer. Bring out those wide brim bats, summer dresses, linen shirts, and khaki shorts. Wearing weather appropriate clothing can keep us several degrees cooler during summer months.
The summer will be gone before you know it. Have fun, and stay cool and safe!
Internal Medicine Practices
Lady Lake – The Villages: (352) 391-5299
Tavares: (352) 742-1707