By Bryan Carter, MPA-C, Phlebology-Surgery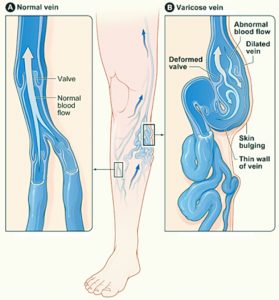 It's all too common for many people to walk around daily unable to see their ankles, and yet, they don't realize the seriousness of the bigger problem happening on the inside. Other individuals may be so affected by the swelling of their ankles and calves that they cannot walk or even get their shoes on.
It is normal to experience a little ankle and leg edema, and it is even expected after a long holiday weekend when we've eaten more foods with a high sodium content, and have had a few extra alcoholic beverages than normal. But the Edema should be resolving overnight. If not then other considerations are to be presumed. One of the most common causes of leg swelling by far is bad veins circulation.
Other Common Causes:
1. Heart Failure—Heart is not pumping efficiently
2. Medication side effects—Especially blood pressure medicines
3. Kidney function decline
4. Liver function decline
5. Lymphatic functional decline
6.  Infections
7. Most critical—blood clots in the legs
If someone does have leg swelling, many tests are available to find the cause.   One of the most important causes is the possibility of a leg blood clot from the "damaged veins" or the Venous Insufficiency. This is the most critical possibility, due to the likelihood of it being life-threatening.
First, see your primary care physician, they should evaluate you with checking your blood work, examining your legs, checking medications and simultaneously getting you referred to a cardiology /vascular office to evaluate you for heart function and a leg ultrasound to rule out the potential blood clot and to check for Venous insufficiency.  This Venous insufficiency study is a specialized test that hospitals and your local imaging centers are not accustomed to. This test is a very detailed ultrasound, and it's utilized to determine the functional status of the veins as well as to find any blood clots in the veins.
Vein Disease:
Should your test come back positive for Venous Insufficiency, that means your veins have either been damaged to the point where the valves do not control the blood flow back up to the heart, or the Veins have been significantly stretched out.  With both of these diagnoses, again the same situation hold true; your valves can not control the blood flow back to the heart.
Genetics are the number one cause of Venous Insufficiency along with secondary complications like, standing or sitting for extended periods of time, trauma to the legs, obesity, pregnancies, as well as other possibilities.
As you notice the swelling worsening, more and more irreversible damage is occurring under the skin plus you're increasing the risk of potential blood clot formation.
As seen below in the picture the swelling can progress to the varicose vein's and then leading to the stasis dermatitis skin discoloration and then Venous ulceration and skin breakdown which can lead to cellulitis.
Treatment Options:
If you do have a positive test confirming Venous Insufficiency,  treatment options are much better than in the years past.  No vein stripping is needed, and diuretics are NEVER a long-term treatment option.    Daily use of medical grade and accurately measured support socks are the initial start to control the Venous insufficiency. Daily Pool exercising is highly beneficial, as well as intermittent leg elevation.  All of these  will aid in keeping the edema control.
The best outcomes for Venous insufficiency are with treatment options that include Venous thermal ablation and Venous chemical ablation. There are no sutures and no down time, and best of all, these procedures are performed in the office. You are able to resume normal routine activity right after your treatment.
At the Heart of the Villages, Bryan Carter specializes in venous issues and leg health, taking great pride in getting to know his patients on an individual level.  He is supported by a full-service cardiology practice.  Mr. Carter is a previous Army combat medic who obtained his Masters in Physician Assistant studies with a thesis in Venous Disease and Treatment. Mr. Carter has been treating vein problems since October 2002 and was one of the first Physician Assistants to perform thermal ablation—a treatment that soon made traditional vein stripping extinct. Bryan has personally trained physicians, physician assistants and nurse practitioners throughout Florida and Georgia and is an active member of the American College of Phlebology. He is also one of only a few to be inducted into the American Venous Forum.
To find out more, please visit their website at heartofthevillages.com, or call their office to schedule your appointment at, (352) 674-2080.