By Kriston J. Kent, M.D.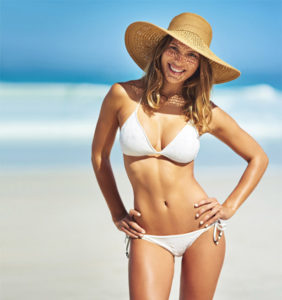 Noticing that your skin is starting to look dull, blotchy, or discolored? Do you have acne, scarring or noticeable wrinkles? Sure, there are many over-the-counter products touting their anti-aging benefits, but the truth is—they're not going to cut it! To see a noticeable difference in your skin's appearance, you'll need to see a medical professional. Seeing a skin care specialist doesn't mean you need surgery, it just means that your skin needs to have medical-grade treatment to have optimal cellular turnover and the regenerative effects needed to improve texture, color, brightness and the reduction in wrinkles.
At Holcomb – Kreithen Plastic Surgery & Medspa, they offer the latest, most advanced and the significantly beneficial treatment options from the cutting edge to the tried and true. These include numerous aesthetic options for the face and body, but for simplicity, Springing into a new glowing face will be the focus of the following methods.
Cosmelan Skin Depigmentation Therapy
Cosmelan Skin Depigmentation Therapy is effective at treating blotchy skin, hyperpigmentation, brown spots, and melasma. Cosmelan is a topical treatment that slows the body's melanin production, which is responsible for dark patches. Cosmelan is effective with all skin types and, along with rapidly decreasing pigmentation, it can produce a light peeling effect for smoother skin.
Epionce Peels
Epionce chemical peels are customized to each patient's skin type and skin conditions, such as psoriasis or acne. Epionce offers renewing peels to repair damage and minimize the appearance of fine lines and wrinkles, as well as cleansing peels that remove impurities, uneven texture and signs of aging.
HydraFacial
The HydraFacial is a non-invasive, non-laser treatment that resurfaces the skin while clearing pores and hydrating the skin. The HydraFacial procedure can eliminate fine lines, lighten dark spots and treat acne and acne scars while clearing out clogged pores and giving skin a vibrant glow.
Dermapen Micro-Needling
Rejuvapen therapy creates a controlled injury to the skin with micro needles in a cartridge. These injuries are similar to those produced by an ablative laser without heat. The skin then naturally creates collagen to heal these invisible wounds, for tighter, younger and more even skin. Rejuvepen can help erase or minimize fine lines, stretch marks, acne scars and more.
SkinMedica Peels
SkinMedica offers a line of chemical peels ranging from light to deep to smooth the appearance of the skin, treat roughness and uneven texture and improve the appearance of fine lines, sun damage, acne scars and more. The Illuminaze peel is non-
invasive and very light to improve skin texture, color, and clarity. The Vitalize peel is the most popular to improve pigmentation, acne, melasma and stimulate the production of collagen. The Rejuvenize peel is a deeper peel for patients who have established tolerance to the Vitalize peel.
Dermalinfusion
Dermalinfusion is a patented, non-invasive, 3-in-1 dermatological treatment that simultaneously exfoliates, extracts and infuses skin with condition-specific serums for an all-inclusive treatment in one step. It is the first and only treatment of its kind, where serum is injected deep into the skin at just the right time of exfoliation. Dermalinfusion provides immediate and long-lasting results for all skin types – with no downtime.
BBL (Broad Band Light)
BBL is a cutting-edge light therapy that uses energy to target and pinpoint the skin's troubled areas. BBL treats, melasma, freckles, age spots, rosacea, vascular lesions, scars, acne, skin texture, and tone, removes unwanted hair, minimizes large pores, and improves skin's firmness. BBL uses photo-thermal energy to target and improves the skin's appearance anywhere on the face, neck, hands and entire body.
Holcomb – Kreithen Plastic Surgery & Medspa offers so many more options for your skin's health including injectables, laser resurfacing, medical grade skincare and infrared options to name a few.
Holcomb – Kreithen Plastic Surgery & Medspa
Dr. J. David Holcomb, MD is a Facial Plastic and Cosmetic Laser Surgery specialist, and Dr. Joshua C. Kreithen, MD is a Plastic (Breast and Body Contouring). Dr. Kriston Kent is a board certified facial plastic surgeon with more than 25 years of experience in facial plastic surgery, non-surgical facial procedures and injectables. He specializes in facial injectables, laser treatments, and hair restoration. Dr. Kent brings a wealth of knowledge and experience in aesthetics industry to beautiful Carrollwood Florida.
Holcomb – Kreithen Plastic Surgery and MedSpa offers surgical and non-surgical treatments and programs that enhance the lives of both women and men, so they can look and feel their best at every age. Their staff is comprised of an extraordinary group of professionals who enjoy empowering individuals to reach their full potential. They are committed to treating patients and each other with kindness, compassion and dignity at all times.
To get your skin glowing, please call them today to schedule your appointment.
Holcomb – Kreithen Plastic Surgery and MedSpa
One South School Avenue, Suite 800, Sarasota, FL 34237
P: 941.365.8679 sarasota-med.com | sarasota-medspa.com
3642 Madaca Lane, Tampa, FL 33618 | P: 813.609.4000
tampa-med.com