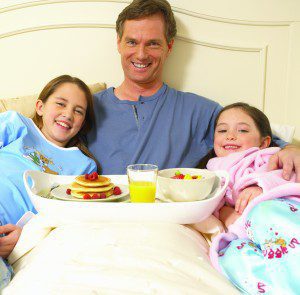 Celebrate your own father and the father of your children this Father's Day. Make Dad the center of attention for a change. Here are some ways that you and your kids can make Dad's day!
1. Before Father's Day, sit down and write a note to your husband, telling him what a great dad he is and how important he is to your family. Have each of your kids write a note or draw a picture; then, on Fathers' Day, leave them in places where Dad is sure to find them—on his pillow, next to his coffee cup, taped to his shaving mirror, in his favorite chair.
2. Make Dad's favorite meals all day, starting with breakfast and ending the day with a spectacular dessert.
3. Have your kids make Dad's Day coupons to give as a gift. They can make coupons for hugs, kisses, shining Dad's shoes, washing Dad's car, total access to the TV remote. . . you get the idea. And Mom, you might want to make some coupons of your own to give to your husband. Use your imagination!
4. Take a walk with Dad. It's a simple thing, but a half-hour walk, away from the telephone, the TV and the distractions of the day, can be a real bonding experience. And something you might want to make a regular habit.
5. Commit to complimenting Dad often. Start by going around the dinner table and having each person say what they love most about him. But don't just make it a once-a-year event. Dads deserve compliments every day.
6. Make up a song about Dad and sing it to him.
7. Remember all the Dads in your family—your own father, your husband, your father-in-law, your grandfather. Give your kids the opportunity to honor all the men in your family who have made a difference in their lives.
8. Hand over your camera or camcorder and let your kids take pictures of their Dad, or make their own home movie, starring Dad. You'll enjoy seeing him through their eyes, and the results will be a family keepsake for years to come.
9. Indulge Dad in his favorite pastime. Dads are always doing whatever everyone else wants to do. On Dad's Day, take him bowling, fishing, or browsing through the home improvement warehouse. . . do whatever he enjoys doing, and do it with joy!
10. Take a few minutes at the end of the day to give thanks to God for the man who loves you, protects you and provides for you. Then, have the family gather around Dad and let everyone take turns listing all the things they love about him.
Copyright 2016. iMOM. All Rights Reserved. Reprinted with permission. For more inspiration and resources, visit iMOM.com.