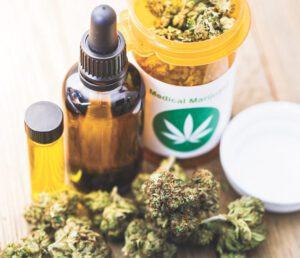 #1—HOW IT WORKS
There are two different forms of medical treatment through cannabis. The first is the natural marijuana plant that contains both CBD and THC, and the second is the altered version of the plant that has been through a hybrid process to lighten the THC (tetrahydrocannabinol) level. CBD or cannabinoids can treat many different forms of diseases and disorders with no THC. THC is the mind-altering, euphoric component of marijuana that gives the "high" feeling. With CBD plants, the THC levels have been extracted through a vigorous process, leaving zero to little THC levels. CBD is an excellent alternative for patients that would benefit from cannabinoids alone, while other more complex medical cases require the additional advantages of THC to be included in the leaves of the marijuana. Experienced, qualified medical marijuana physicians like Dr. Gregory Sonn, owner of Iona Cannabis Clinic understand what dosages and strengths work best for your needs.
Our brain and nerve cells have cannabinoid receptors, so our bodies naturally react to CBD oil (cannabinoids) and THC through merging directly with our cells. Our natural endocannabinoid system works synergistically with CBD and THC, creating a multitude of beneficial reactions in the body.
#2—CANNABIS' HISTORY & REGULATORY STANDARDS
Over 4000 years ago, Asian Emperors used cannabis for its healing properties, noting exceptional improvements in edema (fluid build-up) and also as an anesthetic. In ancient Greece, cannabis was reported in many manuscripts, describing its use for medical conditions such as eye diseases and joint inflammation. Over 300 years ago, in one of Oxfords medical professional journals, it was touted as a means to reduce depression. In the early 1900's, the United States began growing cannabis for pharmaceutical companies to formulate into medications.
The laws and regulations on Cannabis are continually updated, as federal regulatory officials better understand the advantages of medical marijuana. It is used legally in many states, including Florida.
#3—WHAT DOES IT TREAT?
Medical marijuana and cannabis oil can be used to treat and alleviate symptoms of numerous medical conditions. Listed below are the state's qualifying conditions:
• Cancer
• Epilepsy
• Glaucoma
• HIV
• AIDS
• Post-traumatic stress disorder (PTSD)
• Amyotrophic lateral sclerosis (ALS)
• Crohn's disease
• Parkinson's disease
• Multiple sclerosis (MS)
• Medical conditions of the same kind or class as or comparable to those above
• A terminal condition diagnosed by a physician other than the qualified physician issuing the physician certification
• Chronic nonmalignant pain caused by a qualifying medical condition or that originates from a qualifying medical condition and persists beyond the usual course of that qualifying medical condition
#4—YOU NEED A CERTIFIED MEDICAL MARIJUANA PHYSICIAN
Because this is strictly for medical use, there are multiple regulations and protocols that physicians must adhere to when prescribing medical marijuana. You must visit a Physician that is licensed to recommend medical marijuana. To legally purchase and consume medical marijuana in Florida, the person must have one of the specific qualifying medical conditions regulated by the government or have a medical condition that is deemed as appropriate.
At Certified Marijuana Doctors there is no charge for your initial visit if you don't qualify. For the other 95% of their patient population, the physician issues a certification and enters the patient into the Medical Marijuana Use Registry or MMUR. Only people who are registered in the Medical Marijuana Use Registry database can obtain and consume medical marijuana in Florida. Certified Marijuana Doctors guides you through every step of the process.
Certified Marijuana Doctors
Get Your Florida Medical
Marijuana Card. Call Today!
Leesburg – 352-306-0133
Ocala – 352-414-4545
Port Charlotte – 941-208-3444
www.cmmdr.com