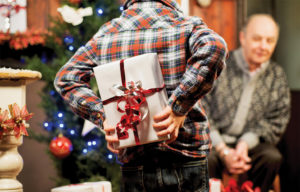 The holidays are intended for families and special friends to come together and celebrate. Unfortunately, commercialism at times invokes much more stress than pleasure during this time of year. Ev'ents and parties have us rushing, healthy diets are tossed aside and our sleep patterns are often overlooked. For many this can be a recipe for burnout. The good news is that we can change the way we approach celebrations and take care of our needs during this season. This year, give to yourself first in order to be emotionally and physically satisfied to give to others.
Here are 7 tips to help you begin your self-care during this most wonderful time of year.
1. Give yourself permission
It is natural when you begin to switch your thoughts to self-care to feel guilty, irresponsible or even selfish. Instead, give yourself permission. Allow yourself to say "no" to attending or hosting an event, or "no" to overspending on gifts. Allow yourself the right to do what is best for you. Take time to ask yourself—what do I want to gain during the holiday season this year? How can I make that happen? What do I value most? What type of traditions are important to me that I wish to maintain?
2. Involve all of your senses
When we invoke our senses, we experience things on different levels. Think of ways to include sight, smell, taste, touch and hearing into your self-care. If we smell different spices and the food as it is simmering and enjoy the experience of preparation and continue into the finished meal, we will involve our senses and have a greater experience than we might have otherwise had. Sit and watch your favorite holiday movie while wrapped up in a soft blanket. Play music that is relaxing. Experiment with ways to incorporate all of your senses during times of refreshing for your body and soul.
3. Abandon seasonal hustle and bustle
Plan ahead and designate specific time for task completion or to arrive at functions that you will attend to allow yourself time to mentally prepare. If possible, plan your shopping time during quieter hours, such as weekday mornings—or shop online and avoid crowds all together. When you do plan to be out in the crowds, calm your mind and body before going and recognize you don't have to rush and can take time to enjoy the shopping process. By changing our perspective of the situation, we can approach things with calmness. Create a sense of peace and joy, true holiday feelings, inside your mind and spirit.
4. Practice moderation
This is the time of the year where it is easy to over-indulge. We find it easy to neglect healthy eating. Sleeping patterns may be altered. Overspending may be the norm to purchase gifts for those on our lists. It is common to be swept up into excessive behavior. Aristotle wisely stated, "All things in moderation." Moderation is a gauge for us to adhere.
5. Ask for help
You don't have to do everything yourself. Be willing to reach out and ask for help, whether it's to request that guests bring a dish to your celebration or gathering or ask for a couple of extra days on a work deadline.
6. Give up expectations
The holidays can prompt unrealistic expectations. Many people struggle with depression and high anxiety over the holidays. Not everyone is experiencing a "Merry Christmas" and perhaps you too may struggle. Previous experiences, passing of loved ones, job loss or financial difficulties seem to be heightened during the holidays. Practice self-care and give up expectations of the "perfect" family with the "perfect" tree while hosting the "perfect" parties with the "perfect" gifts. When you let go of these false illusions and ideas, you allow yourself to experience greater joy and celebrate in the reality of the moment. Wherever you are in your life this year, take care of yourself first. Practice self-love abundantly—this truly is the only way to fully experience the true meaning of the season.
7. Be grateful
Take time to reflect on what you are grateful for this year, whether it's your own accomplishments, your family and friends, your health or your pets. When in stressful or depressing periods of life, writing down things one is grateful for can help lift these negative feelings. These things may be as small as the way your dog or cat sleeps curled against your side or as meaningful as securing the lease on a new place to live. Try writing a few (even in the Notes section of your phone!) or make a mental list in your head each night as you're falling asleep. Gratitude is an anecdote for stress and a powerful form of self-care.