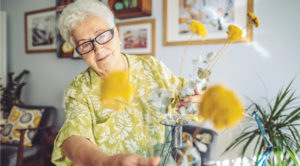 Staying in your home and aging in place sometimes sounds like a fantastic plan to numerous seniors, but the stark reality is, there are many pitfalls to this theory. For example, safety is a concern, increasing electric bills, annual upkeep, unexpected leaks, and faulty appliances are just the beginning of the impending monetary expenditures that you may or may not have planned. Additionally, if you find it taxing to mow the lawn along with all of the other required maintenance on your home, trying to budget for these costs via an external company can be daunting.
Many seniors find themselves on a fixed income in their golden years and are uncertain of finding ways to make ends meet when living in their homes. Programs like Medicare don't always offer enough support to stay in the family home, but there are senior communities that are geared towards helping fixed income folks out, and one, in particular, is focused on senior needs, support, health, wellness, and luxury.
If you've been considering senior housing, wanting the enjoyment of a social network, and luxurious amenities that fit your budget—Aston Gardens just might be the answer.
Financial Security by Locking in Your Rate
It's now easier than ever to enjoy the affordable, carefree lifestyle you've been dreaming of. Simply put, your Independent Living, Assisted Living, and Memory Care rent is locked in for three full years—guaranteed! Think of it as a bit of financial security that can make a big difference in your budget and your pocket. There are no long-term commitments or buy-ins, and you still have the convenience of an annual lease.
Budget Friendly Senior Living Solutions
Independent Living offers many amenities one would find at an all-inclusive resort: gourmet meals, professionally curated social events and myriad activities, and state-of-the-art fitness centers to name just a few. The Assisted Living lifestyle comes with just as much freedom, but also includes the added peace of mind that comes with knowing team members are available 24 hours a day to manage medications or assist residents. SHINESM Memory Care is a lifestyle exclusive to Aston Gardens, and its parent company, Discovery Senior Living. SHINESM was designed for residents with cognitive impairments, and team members undergo extensive training to become certified in this unique combination of scientific and holistic approaches in order to enrich the lives of each Memory Care resident.
Carefree Living
Aston Gardens carefree senior living programs provide residents with fun, stress-free and easy living. Socialize with neighbors, enjoy fine dining, get out-and-about with chauffeured transportation, and take advantage of all the health and wellness opportunities. Plus, weekly housekeeping and concierge services all make life the best it could be. Now that's living!
Amenities
• Grand Ballroom
• Elegant Main Dining Room (5-Star)
• Private Dining Room
• Elegant Terraces and Outdoor Entertaining Spaces
• Heated Swimming Pool
• Lush Landscaping
• Senior-Equipped Fitness Center
• Library and Business Center
• Card and Game Rooms
• Activity Center
• Beauty Salon and Barber Shop
• Lounge
• Inviting Living Rooms and Common Areas Throughout
• Mail Room
• Concierge
• Full-Time Activities Director
• Themed Parties and Dances
• Educational Seminars
• Craft and Hobby Classes
• Card and Game Clubs
• Fitness and Wellness Programs
• Local Outings Around Town
• And so much more
Aston Gardens At Tampa Bay
Aston Gardens is a luxury senior living community offering the best combinations of active-adult lifestyles and personalized care services. Wake up inspired each morning with a wealth of amenities, activities, and support at your doorstep. Explore the stylish Grande Clubhouse and indulge in our unique lifestyle services: Sensations Dining, Celebrations Activities and Dimensions Wellness. Let our dedicated team members handle transportation, maintenance, housekeeping, concierge services and more. Here you will find compassionate people engaged in enriching the lives of seniors, ensuring their needs are taken care of every day. Aston Gardens At Tampa Bay offers the best value in affordable, carefree, senior living. Everything we do is focused on providing you the very best in senior living. It's all right here!
Now is the time to schedule your private tour! See why so many people want to call Aston Gardens At Tampa Bay their home!
Aston Gardens At Tampa Bay
Call 813-438-7345 today or visit astongardens.com.