Dr. Kelly Hansen, Au.D. and Dr. Nikki Goldowski Richa, Au.D.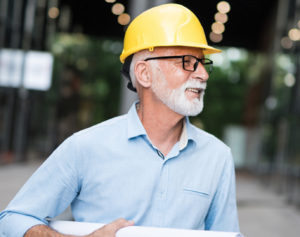 Wisdom may come with age but getting older has its set of challenges. People are living longer but not necessarily healthier. From diminished eyesight, arthritis, immobility, to cognitive decline, some conditions make it high-risk and unsafe for seniors. This is especially true for those with untreated hearing loss. Approximately 50% of people will have significant hearing loss by age 75.
For individuals with hearing loss, it can be dangerous not to hear the car horn that's attempting to alert you of an impending accident. It can be unsafe to sleep with hearing loss and not be able to hear the smoke alarm or burglar alarm. Also, consider, the safety risks of not being able to hear conversations correctly. This can lead to confusion and lack of the ability to follow necessary directions.
Hearing Loss Can Negatively Affect Your Brain
Getting your hearing checked regularly is critical to your own personal safety and the health of your brain. Individuals that struggle with hearing often become less social and therefore their cognitive decline is affected by less interaction and less mental processing. It is also thought that decline in other special senses, like the sense of smell and vision, can exacerbate cognitive issues due to degeneration in these other areas of the brain.
If you get early treatment, you can slow down the natural progression of hearing loss related cognitive decline. Hearing loss will continuously get worse with age in most people but compensating for the loss with properly fitted hearing aids can help reduce mental decline. It is important to keep the brain engaged in social interaction and verbal communication. When someone becomes isolated from communication, it tends to exacerbate the processes of dementia.
STAYING SAFE REQUIRES GOOD HEARING!
If you have hearing loss in one ear, it can be difficult to decipher where sounds are actually coming from. It's common for people to sleep on their "good ear" to get a better nights rest, but this again, puts one at risk due to not being able to hear during an emergency or precarious situation. Getting hearing aids to improve hearing or getting your hearing aids upgraded to suit your changing hearing is absolutely imperative.
Why You Should See an Audiologist
If you are experiencing hearing loss, it's important to seek a qualified audiologist, because they are trained to get you the best outcome and resolution for your specific issue. If you've noticed that it's difficult to hear conversations in a noisy atmosphere, or you feel the need to adjust your television volume much higher than before, it's vital for you to have your hearing checked.
Perhaps you or your loved one keeps asking for people to repeat themselves, or you can't quite pick up where sounds are coming from; if this is the case, don't wait until your hearing loss gets any worse, schedule your appointment as soon as you possibly can.
At Trinity Hearing & Balance, we truly believe that better hearing leads to a better life. Our patient-centered approach allows us to focus on satisfying your hearing care need, whatever they may be. Our practice will work with you to diagnose and find solutions for your hearing, tinnitus, and balance needs using state-of-the-art equipment and the most advanced technology. Because our focus is entirely on your unique needs, coming to Trinity Hearing & Balance means that you'll experience patient care that is specific to you, with exceptional follow-up care that ensures your hearing and balance needs are being met.
Trinity Hearing & Balance wants you to be satisfied with your care. We are a local, independent, community-oriented practice. Our services are fully guaranteed, meaning we are committed to listening to your concerns, and your technology is always perfectly fit to renew your world of hearing. A strong patient-provider relationship based on honesty, integrity, and values is what we strive for, and we feel that this is the best approach to making sure you don't miss any of the precious moments in your life.
Services
• Tinnitus Treatment
• Hearing Tests
• Hearing Aids for all budgets
• Hearing Aid Repairs
• Dizziness, Loss of Balance, Vertigo
• Hearing Protection
• Evaluates and Recommends Cochlear Implant Surgery
If you are experiencing any hearing issues, or need a hearing or balance evaluation, please call Trinity Hearing & Balance of New Port Richey to schedule your appointment.
Trinity Hearing Balance
8605 Easthaven Ct., Ste 101, New Port Richey, FL 34655
727-372-1130
www.trinityhearingandbalance.com