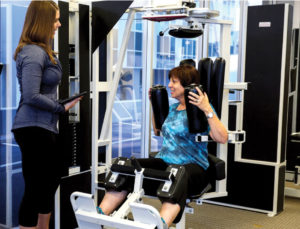 It's a new year, which we all universally associate with a fresh start, but are you going about your fitness goals in an out of date fashion? When you go to the gym or embark on a cardiovascular program, weight training, or any physical activity on your own, there are certain
risks involved.
For those of us (mature adults) who do have experience with traditional strength training, while we know the benefits, we may have some concerns that our body simply can't do what it once was able. And, quite logically, we may have legitimate concerns about safety and the possibility of injury. For those of us who have not had experience with traditional strength training, while we may have read about the benefits, we may have concerns about starting strength training "at our age."
So, the quandary for all of us is, while we don't want to (can't afford to) pass up an opportunity to fight the aging process, we're just not sure what to do. Enter the Personal Fitness Trainer.
Trainers are not hard to find. These days almost every fitness facility has trainers available for individual personal training. You can also find personal trainers who work independent contracts, either privately or at fitness facilities, where the trainers pay to use the facility's equipment to train you. If you do use a facility's trainer, typically, the trainer's fee will be in addition to any initiation or monthly fee, which the facility may charge. Also, if you have any fitness equipment available for your personal use (in your home, apartment building, or condominium), some personal trainers will conduct private sessions at those locations.
Although the rates may vary, the fees trainers charge can range from $40 to $150 per session. In some cases, trainers may offer a fee discount if you purchase multiple training sessions in advance.
While there is a cost for the trainer, my personal experience has convinced me that the benefits of using a trainer far outweigh the cost for several reasons:
• Safety: The trainer's primary job is to make sure you have a safe workout.
• Motivation: The trainer truly is your Coach- there to encourage, motivate, and yes, "push" you farther than you would push yourself. Our minds often hold back our bodies. The trainer is there to help your mind and body connect so that you can reach your full potential.
• Accountability: Some days, we just don't feel like training. But we know that our trainer is expecting us, waiting to help us, and depending on us to show up for our session. The trainer becomes your partner, who shares the responsibility of not allowing you to let yourself down.
So, here we are—us Baby Bloomers. (Since we really are in "full bloom" now, I feel that it is a much better term than "boomer.") We are at a point in our lives where we have more free time than ever before. We have important goals and dreams, and we simply don't want to let our bodies, or our health slow us down. That requires us to eat right, get regular health checkups, and keep our bodies strong and free of the injuries that can prevent us from celebrating the rest of our lives. And, as we have preached, strength training and using qualified, certified personal trainers are undeniably, two of the best ways to lessen the negative effects of aging.
The 20 Minutes to Fitness Difference:
While most individuals want to be fit, more toned and leaner, the biggest hurdles are time and discouragement. Many gym membership sales representatives make false promises and misleading claims, playing off your desire to lose those extra pounds. But the truth is, we've been going about it all wrong. What we think we know about getting and staying fit, is inaccurate.
20 Minutes to Fitness uses scientifically based strength-building methods. It is possible to achieve in one weekly 20-minute session what might require three or more hours a week in a traditional fitness center. At 20 Minutes to Fitness, clients train under the watchful eye of a certified personal fitness coach on high-end specialized equipment initially designed for use in physical therapy.
Your certified fitness professional will guide you through a total body workout, directing and encouraging you to lift weights in slow, but continuous movements until the point at which your muscles can no longer perform. This point is called peak performance and is also known as Slow Cadence training. Safe and effective, 20 Minutes to Fitness workouts can be fine-tuned for people of any fitness level.
START YOUR NEW YEAR A STEP ABOVE THE REST, WITH REAL RESULTS, ACCOUNTABILITY AND SAFETY AT THE FOREFRONT OF EACH 20 MINUTE SESSION. CONTACT 20 MINUTES TO FITNESS TODAY!
Sarasota – Downtown
209 N Lime Ave
Sarasota, FL 34237
Sarasota – Lakewood Ranch
6257 Lake Osprey Drive
Sarasota, FL 34240
Tampa – Carrollwood
11610 N. Dale Mabry Hwy.
Tampa, Fl 33618