By Khaled Bowarshi, M.D.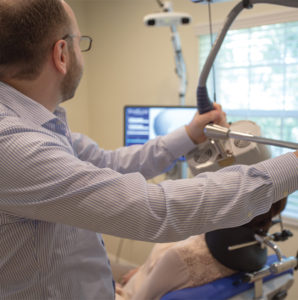 Traditional treatments for depression like antidepressant medications and talk therapy are facing many challenges. It's not uncommon for such treatments to be ineffective. It takes what feels like forever to get some response. And off course, medications are associated with frequent side effects. Thanks to Repetitive Transcranial Magnetic Stimulation (rTMS), now we have a much more effective treatment for treatment-resistant depression (TRD). TMS has been used in clinical psychiatric practice since 2008 in the USA following its clearance by the FDA.
What is Repetitive Transcranial Magnetic Stimulation?
It is non-invasive, drug-free with none of the side effects associated with medications. Despite the breakthrough it provided, rTMS is challenged by the inconvenience of the duration of the treatments. A session used to last for 37 minutes. With adjustment to the protocol, the duration was shortened to 19 minutes. When you consider that a full treatment course is about 30 to 36 sessions, that's a lot of time on the treatment chair.
The Improved Version
Fast forward 10 years to 2020, a new breakthrough in TMS revolutionized our treatment options. Intermittent theta-burst stimulation (iTBS) is the "version 2.0" of rTMS. Just like rTMS, it is a non-invasive brain stimulation treatment that is FDA-approved for treatment-resistant depression (TRD). It uses a different magnetic frequency in bursts, delivering the treatment in just 3 minutes and 9 seconds. It was proven as effective as rTMS with the obvious time saving of over 5 folds. This also opened the door wide open to newer methodologies of providing the treatment. Most importantly, providing multiple sessions a day. This allows the course of the treatment to be shortened from 6 weeks to just days!
Just recently, in 2019, a group of researchers at Stanford University published some very promising results. Stanford Accelerated Intelligent Neuromodulation Therapy for Treatment-Resistant Depression (SAINT-TRD) examined the feasibility, tolerability, and preliminary efficacy of an accelerated, guided iTBS protocol for TRD. In this clinical trial, 21 participants with TRD received 50 iTBS sessions as 10 daily sessions over 5 consecutive days. Neuropsychological testing was conducted before and after SAINT. Amazingly, 19 of 21 participants (90.48%) met criteria for remission immediately after SAINT. Neuropsychological testing demonstrated no negative cognitive side-effects. There were no seizures or other severe adverse events.
This supported that accelerated guided iTBS was well tolerated and safe. Efficacy was strikingly high, especially for this treatment-resistant population. Currently, more trials are being conducted to formalize this method of TMS treatment. We are looking forward to seeing the outcome of a double-blinded trial involving 212 participants called CART-BIND.
Florida TMS Clinic provides the newest innovation to our patients. Florida TMS Clinic provides navigated rTMS, navigated iTBS, and accelerated TMS. Our patients have immediate access to the most up-to-date proven treatment options in the Tampa Bay Area.
Khaled Bowarshi, M.D.
Double Board Certified in Medicine & Psychiatry
Dr. Khaled Bowarshi, a double board certified psychiatrist, is dedicated to transforming mental health. His passion lies in giving life back to those suffering from life-robbing mood disorders, such as depression and anxiety. At Florida TMS Clinic we seek to give life back to those living with a mood disorder using the most advanced treatment modalities, such as transcranial magnetic stimulation (TMS therapy).
TMS offers hope for long-term relief of undesired symptoms and a better quality of life.
Call today!
Florida TMS Clinic
26843 Tanic Dr STE 101
Wesley Chapel, FL 33544
Call today! 813-TMS-BEST
FloridaTMSClinic.com