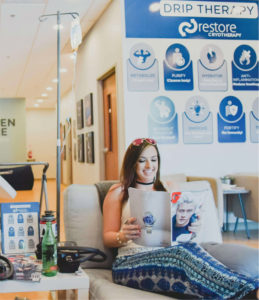 Along with the seasonal flu, this year, we are also all concerned with the newest Coronavirus, COVID-19. Taking precautions is essential. Young children, individuals with weakened immune systems, and adults 65 and over are more susceptible to the dangers of the flu and COVID-19, as their symptoms can quickly exacerbate into pneumonia or other disease states. As the immune system becomes weaker, the ability to fight off viruses and bacteria becomes more difficult and problematic. It's critical to stay healthy and boost the immune system; that's why along with good hygiene, so many people are also looking into preventative treatment methods.
IV Therapy Advantages
Vitamin C can be absorbed in fairly large quantitates by the body, but even more so by IV therapy. When given intravenously, larger amounts are absorbed and not excreted, than by taking a supplement, or by eating fruits and vegetables alone.
While eating a healthy diet and taking vitamins is very beneficial, IV induced vitamin C is able to enter the bloodstream without going through the digestive tract, which often breaks down supplements potency. IV nutrients are able to permeate the tissues and organs easier than with oral supplementation. When you take vitamins orally, they are subjected to your digestive tract and are only absorbed at a rate of 10-20%. Delivered through an IV, they go directly into your bloodstream, meaning those vitamins are absorbed nearly 100%! This means that at Restore, you really know you're getting what your body needs.
Restore Hyper Wellness offers a multitude of supplementation and nutrient combinations depending on a person's need. They also have a powerful version of the popular Myer's Cocktail that consists of B-complex Vitamins, Vitamin C, and Magnesium.
They also offer other immune boosting and preventative infusions that can help you fight infections and boost your immune system. Every person who receives an IV drip has the opportunity to have a consultation with a nurse practitioner to ensure efficacy and safety for each person. Restore also offers powerful micronutrient testing which provides a clear view of how your body has been absorbing and utilizing nutrients over the past thirty days. It is much more effective than a standard blood test and helps the nurses at Restore create a mixture which will provide you maximum benefit and relief.
IV hydration and nutrient intervention is an alternative therapy that is 100% natural and very effective at getting key supplements directly into the blood stream for fast, efficient immunotherapy.
The Science Behind Restore's Hydration & Vitamin Infusion Options:
Proper hydration is essential for digestion, detoxification of the liver and kidneys, and waste removal. Without it, people face medical complications such as fatigue, headaches, joint pain, ulcers, weight gain, high blood pressure, and kidney issues.
Restore also offer a comprehensive micronutrient test, that gives us insight into what your body is deficient in. After they gather the test results, their nurses will know exactly what to put into your IV drip. Restore's IV drip program is the perfect way to ensure your body is given the essential nutrients it needs.
Benefits:
• 100% bio-available directly into your bloodstream compared to the 15-20% bio-availability of oral administration
• Nearly immediate results
• Effective hydration and custom cocktails of vitamins and minerals
BE (HYPER) WELL
Restore is now the leading retail provider of Hyper Wellness services in the United States. They coined the phrase Hyper Wellness because it exemplifies their approach by offering cutting edge services that have shown results, they strive to make customers feel better every time they visit, and hyper stimulate the body's natural defense mechanisms. Hyper Wellness is a lifestyle that improves the lives of customers.
Restore's unique retail locations are the antithesis of a traditional doctor's office. They are efficient, fun and social. They educate and provide information in a completely transparent manner so that you can manage your wellness better. Every day, they help thousands of customers achieve their goals around sports performance, pain management, recovery, beauty and overall wellness.
Today, Hyper Wellness modalities include Cryotherapy (localized and whole body), IV Drip Therapy, Hyperbaric Oxygen Therapy, Infrared Saunas, Compression Therapy, and Photobiomodulation Therapy. Working in concert, these services help increase the overall performance of the body. Restore will continue to push for better results and add additional services that fit into the Hyper Wellness mold.
Begin your journey to health and hydration with Restore! To find out more, or to schedule an appointment, please call (813) 909-6923 today!
Restore – Hyper Wellness + Cryotherapy
13158 N. Dale Mabry Highway Tampa, FL 33618
813.205.7049