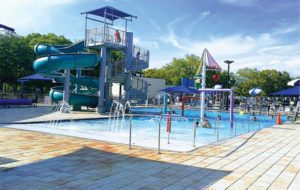 The YMCA's of Tampa Bay are excited to be back open, welcoming back members. The gradual reopening began Wednesday, May 20.
"Our doors may have been closed, but the Y hasn't stopped serving the community," said Tampa Metropolitan Area YMCA President & CEO Matt Mitchell. "We've been hard at work providing emergency services to essential workers, families and our neighbors in need. We will continue to engage and serve all people where they are, including through virtual offerings and outreach services for those who continue to practice social distancing and those who need special support during these challenging times."
The Y's have put careful thought and planning into its reopening. Following guidance from the CDC and government officials, the Y updated its policies, practices and procedures to ensure the highest standards of cleanliness. They also made appropriate accommodations for social distancing to create a safer environment as members get back to focusing on their health and their community at the Y.
"While we can't predict the long-term effects of COVID-19, we are committed to doing whatever is necessary to ensure the safety of our members and staff. The way we'll interact with each other will be different, but at the Y, you'll always be able to connect with people, improve your health and wellness, nurture your children's potential and help strengthen our community," says Mitchell. "Although we are back open, we encourage our members to return at their own pace and when they feel comfortable. We care about our members and their well-being. The Y is more than a gym…we are a community."
Member Protection:
• Members will be asked to verbally affirm they meet wellness screening requirements prior to utilizing the facility.
• Members will be asked to use hand sanitizer or wash their hands before utilizing any equipment or participating in any program.
• Members will be required to clean equipment after each use.
• Each family center and wellness floor will have capacity limits based on size. Additionally, group exercise classes have limited capacity.
• Members will be asked to practice State of Florida guidelines regarding social distancing in all program areas, facilities and swimming pools.
• Coffee service has been suspended.
• Lobby furniture, tables and seating throughout the facilities and pool furniture have been spread out to promote social distancing.
• Select water fountains will have disposable cups to use, and water fountains without cups have been disabled. Water fountain bottle fillers will be active and members are encouraged to bring their own bottles.
• All Y Associates interacting with members and program participants indoors will wear face coverings unless engaged or leading an active program or physical activity (i.e. group exercise instructor, sports leader, etc.)
Enhanced Cleaning:
• Y Associates will wipe down surfaces hourly and will work with members to ensure equipment is wiped down after each use.
• Stay & Play child watch will be deep cleaned midday and evenings.
• All surfaces that cannot be wiped down will be taken out of service. This includes rope pull-downs, bands and other fabric items.
• Y cleaning contractors are all trained in cleaning protocols regarding disinfection, utilizing cleaning products approved to kill viruses.
Virtual Programs for the Entire Family
Take advantage of Virtual YMCA! To help you stay active, healthy and connected in your own home, and on your own time, access free virtual fitness classes, youth and family activities, at-home resources for you and your family and helpful tips on how to safeguard our health by visiting https://www.tampaymca.org/programs/virtual-ymca.
YMCA Summer Camp – for more information and to sign up visit: www.tampaymca.org/letscamp
Tampa YMCA camps and staff are experienced and ready for a safe, exciting and fun-filled summer adventure. When summer camp begins, the Tampa Y will have provided 10 weeks of relief care for children of essential workers. The safety of campers and staff is the Y's top priority and its staff are experienced in keeping children and staff safe, especially during these uncertain times.
The Y has collaborated with the American Camp Association to create educational resources for camps, parents, and campers as well as state and local health departments. Also engaged in the process was an independent expert panel that included specialists in pediatric medicine, epidemiology, infectious disease management, biological safety and industrial hygiene. Some of the ACA camp operations guide its following include the following protocols:
• Before children and staff are checked in, their temperatures are taken. For the safety and well-being of others in camp, those running a temperature of 100.4+ degrees cannot attend.
• Staggered curb-side check-in.
• Low ratio camp groups spread throughout the whole facility. Campers remain in their same small groups throughout the week.
• Individual and spaced out activities to practice safe social distancing. Limited sharing of supplies.
• Ample access to hand washing and hand sanitizer stations, especially at check-in, before meals and after restroom use.
• Y staff intentionally teach and encourage good hand hygiene, respiratory etiquette and follow a strict sick child/staff policy.
• Significant disinfecting of supplies and activity areas throughout the day.