a Few Pictures are Worth a Thousand Cures
InterCommunity Cancer Centers and Institute Recognizes Courageous Cancer Survivors and Supporters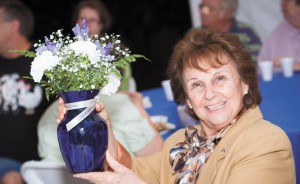 The American Association for Cancer Research recently released its second Annual Report on Cancer Survivorship in the United States and it shows that as of January 2012, there were approximately 13.7 million cancer survivors in the United States, a number that is expected to rise by 31 percent to 18 million by 2022.
InterCommunity Cancer Centers (ICCC) and Institute (ICCI) of Leesburg, Lady Lake and Clermont are paying tribute to local survivors and by celebrating the 26th annual National Cancer Survivors Day®. And while there are countless stories we can tell about our courageous cancer survivors, this year, we want to take this opportunity to share with you photos of the men and women who have overcome seemingly impossible odds.
We thank you all for your smiles, your indomitable spirit, and for inspiring us everyday to continue to fight the good fight.
THE EXPERIENCE OF INTERCOMMUNITY CANCER CENTERS
ICCC has 25 years of cancer-fighting experience having treated over 10,000 patients. They are dedicated to empowering patients to have the confidence they need to change their lives. Radiation Oncologists Drs. Hal Jacobson, Herman Flink, Maureen Holasek and Alison Calkins bring exceptional expertise in treating breast, lung, prostate, gynecologic, skin and other cancers.
As part of a larger, nation-wide oncology group of physicians and specialists under Vantage Oncology, the oncologists at ICCC have access to aggregated clinical information and best practices from the treatment of more than 1,000 patients per day, enabling them to develop highly-effective and peer-collaborated treatments. This gives many of the centers that work with Vantage, including ICCC, the ability to offer university-quality treatment services in smaller and more rural areas. It gives local communities exceptional services closer to home and in a non-hospital setting. To learn more, please visit www.ICCCVantage.com.
ABOUT VANTAGE ONCOLOGY
Vantage Oncology offers a complete development, implementation and management solution for radiation oncology practices. It provides ownership opportunities that empower physicians to maintain control of their practice while leveraging the strength of the company's network and clinical resources. A multi-disciplinary team is committed to continuously raising the standards of cancer care. Vantage provides patients and their families with ultimate peace of mind through its commitment to clinical excellence and superior outcomes. For more information, please visit www.VantageOncology.com.