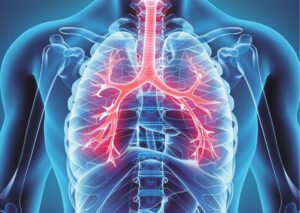 Nearly 24 Million Americans have COPD, and large number of them are over the age of 40 and have a history of smoking or being subjected to respiratory irritants such as chemicals and pollutants. COPD is a disease that is encompassed by chronic bronchitis, emphysema, and asthma, causing shortness of breath, productive coughing and inflammation of the airways. It is a progressive lung disease with no cure. Most patients are put on steroids (oral and inhaled), bronchodilators and antibiotics.
Individuals with COPD often have incidents of fluid build-up, which can make it difficult for them to breath. They frequently feel as if they are drowning and call 911 often due to this terrifying sensation. This is why it's important to speak to your physician about your COPD treatment and the best at home care techniques to keep you safe and comfortable.
Having a disorder like COPD is challenging with continual progressive changes and side effects. Talking to your physician about any fluctuations in your health or symptoms is critical.
COPD Symptoms
• Coughing
• Producing phlegm
• Wheezing
• Shortness of breath with normal activity
• Blue tinge to fingernails
• Fatigue
The COPD and Cardiac Connection
Both disease states are linked systemically to chronic inflammation in the body. Most individuals are unaware of the fat that they have chronic inflammation, because it's not typically something they can see and what they feel, they often ignore as general aging complaints like stiffness, brain fog, high blood pressure or high lipid levels, diabetes, etc. These issues are what lead to the vast amount of people that have comorbidities.
Patients with COPD have fluid retention, which is also attributed to cardiac issues, and can exacerbate cardiovascular conditions. For both sets of conditions diet is a critical component. Making sure that low sodium, low sugar and carbohydrates are minimal in the diet is helpful to lessen the effects of the inflammatory response. Exercise is also important but should be monitored and discussed with your physician.
The health of the heart and vascular system are affected by many things like, stress, substance abuse and genetics, but the main offenders of heart disorders are being overweight, poor dietary habits, having high blood sugar levels and living a sedentary lifestyle.
Depending on the stage of the COPD, some patients might need to consider home health care or private duty nursing. When under home health care, their team of nurses and medical director can prevent these readmissions to the hospital by several means. The medical team can prescribe medications to block fluid build-up, have a daily vital reading monitored by a home health program, and have specialists help with understanding nutrition, and how to keep calm and learn to breathe more functionally through the episodes. Your physician is still in charge of your medical care, and all reports from the home health team are reported to your primary care doctor.
Talking to you primary care physician or cardiologist about diagnostic testing, lab work, medication management, and lifestyle changes is critical for your quality of life when dealing with COPD, heart issues or any other health changes or conditions that you might be experiencing.
Dr. Vallabhan
Rolling Oaks Professional Park
929 N US HWY 441, Suite 201
Lady Lake, FL 32159
352.750.2040
Dr. V
It's your heart.
It should be
personal.
And that's how I treat it.
Dr. Thiruvallur Vallabhan is devoted to keeping your heart at its healthiest. Dr. Vallabhan is a Board Certified Cardiologist, and his mission is to provide The Villages and its surrounding communities with the highest quality cardiac care in a welcoming environment. He and his staff are dedicated to fulfilling the specific cardiac needs of each patient.
To find out more information on the Dr. Vallabhan, your local specialists in the diseases of the heart, veins, and arteries, please call (352) 750-2040 or visit them online at, Drvcardio.com