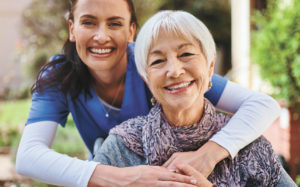 If caught early on, colon cancer can be successfully treated. Colon cancer is the third most common type of cancer in the United States. It affects nearly 50,000 Americans each year. Typically, there are little to no signs or symptoms of colon polyps, so it's critical to have colonoscopies every 10 years, or as recommended by your physician.
Colon polyps go unnoticed most of the time, affecting upwards of 200,000 people a year. Polyps are cell growths on the lining of the colon or large intestine. There are diagnostic tests through lab work and imaging that can detect these polyps. If you have them, it's best to have them removed because polyps can turn cancerous and proliferate. However, polyps don't turn cancerous in every case, but your risk of developing cancer increases with the number and size of colon polyps you have. When they do turn cancerous, polyp cells divide and can quickly multiply within the colon and rectum.
How Your Diet Can Lower Your Risk
Dietary changes can resolve some of the risks of developing colon cancer. The USDA recommendation for 5-9 servings of fruits and vegetables daily is due to the antioxidants and fiber, which can help to ward off diseases and also to keep the colon healthy and functioning properly. Numerous studies over the years have indicated that diets rich in mammalian muscle meats (cow, pig, etc.), cheese and processed foods increase the odds of getting colon cancer by nearly two times their plant-based peers.
Studies also indicate that whole grains are beneficial for colon health. Therefore, a diet rich in produce, rice and quinoa with smaller amounts of meat and processed foods may factor in lowering colorectal cancer risks. Eating plant-based foods, whole grains, fish with limited amounts of dairy, eggs, sugar, and meat is optimal for overall health.
Screenings Save Lives—Get a Colonoscopy!
It's imperative to talk to your physician about protecting yourself and your loved ones who may be at risk for colorectal cancer. Getting a colonoscopy screening is critical for adults with risk factors or over the age of 45. A colonoscopy is an easy procedure and one that can literally save your life. If the polyps are discovered, they can be removed surgically during a colonoscopy or a sigmoidoscopy. If cancerous, chemotherapy or radiation is usually unnecessary as a secondary treatment. It's always best to be proactive in your colon health, rather than waiting and finding that the cancerous polyps have grown and spread into other organs. Talk to your doctor about scheduling your colonoscopy today.
BUT WHAT ABOUT THOSE THAT ALREADY HAVE COLON CANCER?
What If you have Colon Cancer & It's Difficult To Care For Yourself?
Cancer makes people feel tired, sick and weak. Even during treatment, these symptoms and side effects can be overwhelming for many individuals, especially the elderly.
In the advanced stages of colon cancer, uncontrolled bowels can make daily living daunting for patients. That's why home health care can be so advantageous for helping with medical care and monitoring the patients health. Home health nurses and staff are in communication with patient's physician's and can make it much easier on the individual and the loved ones or caregivers.
Home Health Services
• Skilled nursing services
• Physical Therapy
• Occupational Therapy
• Speech Therapy
• Home rehabilitation services
• Nursing assessment at each home visit to monitor and manage progress
Lake Centre Home Care is a skilled home health agency that provides nursing; physical, occupational, and speech therapy; along with home health aides and medical social services.
Lake Centre Home Care offers comprehensive patient care. Lake Centre Home Care accepts Medicare Assignment and private insurance with pre.authorization.
Lake Centre Home Care
310 Market St., Leesburg, FL 34748
(352) 315-0050
HHA# 299992424