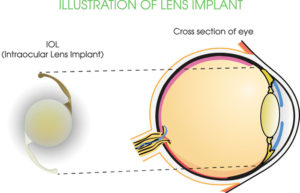 Cataracts are common, affecting people of every age, but mainly occur in people 55 and older. With The Villages being home to a large population of retirees, there are a lot of cataract surgeries being performed, and a lot of intraocular lens, or IOL, implants being promoted, so naturally people have questions about which is the right one for their lifestyle, personal ambitions and budget.
As a forerunner of the most advanced cataract surgeries and IOL placement in the region, our team of experienced Board-certified ophthalmological surgeons, Dr. Scott Wehrly, Dr. Scot Holman and Dr. Vinay Gutti, have investigated and compared nearly every brand and type of IOL in the industry. After performing tens of thousands of successful cataract and IOL placement surgeries, our surgical team has ultimately chosen to utilize Johnson & Johnson's line of IOLs for their exceptional quality, consistency and array of correction options, as well as a range of price points to accommodate and satisfy more people. "We think their line of IOLs is unmatched in terms of innovation, quality, durability and flexibility," says Dr. Wehrly.
"We feel confident using them in every cataract patient we treat."
What are My IOL Options?
Like other medical devices, IOLs are designed to be selected on a case-by-case basis and depend on many factors, like one's eye anatomy and health, as well as lifestyle preferences, vision goals and financial interests. After a thorough eye examination, you and your Lake Eye surgeon will discuss your vision and any eye health issues, as well as the activities you most value and the vision correction you'd find most beneficial, and based on your needs he will outline the IOL choices that will be most likely to deliver the greatest overall long-term satisfaction.
Here are the different IOL options and how they compare and contrast, so you have a basic understanding of what's available.
1. TECNIS® Monofocal 1-Piece IOL – This is a great choice if you want to be able to see distances, such as you do for driving, watching movies, etc. It enables you to depend on glasses only for intermediate and close-up vision. It is the most affordable IOL, making it popular with many patients.
2. TECNIS® Multifocal IOL – This IOL delivers clear close-up, intermediate and far vision correction and is especially suited to people with presbyopia (poor close-up vision), to greatly reduce dependence on glasses. This option lets you personalize the correction to suit your lifestyle.
3. TECNIS Symfony® IOL – The Symfony extended depth-of-focus IOL corrects presbyopia while also providing clear continuous vision for a full range of clarity that functions like a normal, healthy eye. The Symfony can be used in patients with or without astigmatism, and may reduce or eliminate the need for prescription glasses.
4. TECNIS® Toric 1-Piece IOL – The monofocal toric lens corrects astigmatism while also offering brilliant distance vision. After implantation, most patients find they need only reading glasses.
5. TECNIS Symfony® Toric IOL – This extended depth-of-focus toric IOL is a great choice for people with both presbyopia (poor near vision) and astigmatism. It provides a continuous range of focus for excellent distance correction and improved intermediate and close-up vision plus astigmatism correction for less dependence on glasses.
Lake Eye has invested heavily in the latest and most effective technologies to provide the finest in IOL selection and placement. "In addition to the company's superior IOLs, Johnson & Johnson has devised a pre-loaded IOL technology platform that is revolutionary," says Dr. Holman. "It simplifies implantation and improves efficiency to limit surgery times, and reduces the chance of infection and inflammation."
"It's the finest system I've ever worked with," says Dr. Gutti. "It provides sharp vision, enhanced function and long-term sustainability, fitting the standard of care we at Lake Eye are committed to provide each and every patient."
Lake Eye has offices in The Villages, Lady Lake, Tavares, Leesburg and Wildwood for outstanding care that's close to home. If you have questions about cataract surgery, IOLs or another service, we invite you to contact us.
Lake Eye Associates
352-750-2020
LakeEye.com