By Jessica DiLeo, PharmD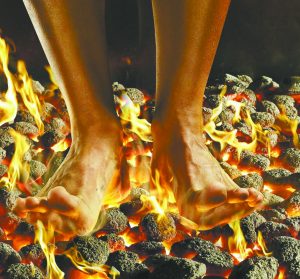 Diabetic Peripheral Neuropathy: An Overview
Diabetes mellitus is a lifelong health issue. In fact, by 2030, it is estimated that the worldwide prevalence of diabetes will reach an alarming 366 million (1). With the incidence of diabetes mellitus climbing each year, the complications associated with this condition will continue to rise as well.
Neuropathies are among the most common of all complications associated with diabetes mellitus, affecting up to 50% of patients (2). More specifically, diabetic peripheral neuropathy is by far the most common diabetic neuropathy, causing dysfunction of the peripheral nerves (2,3). Furthermore, the incidence of diabetic peripheral neuropathy increases with the duration of diabetes mellitus (1).
Diabetic peripheral neuropathy can be characterized by multiple symptoms, including burning pain, knife-like pain, electric shock-like pain, tingling, and prickling (2). There are a number of medications that are often prescribed for the management of these pain symptoms associated with this condition, including tricyclic antidepressants, anticonvulsants, and anesthetics (2).
Compounding: An Overview
Compounding is the art and science of preparing specialized medications with an individual patient in mind. Unlike the "one-size-fits-all" nature of mass-produced manufactured medications, compounded medications are individualized and "made from scratch"—ingredients are mixed together in the exact strength and dosage form required by the patient at the request of the prescriber. This preparation method allows the compounding pharmacist to work with the patient and the prescriber to customize a medication to meet the patient's specific needs.
Compounding may be recommended for reasons including, but not limited to, the following situations:
• Patients may be allergic to a specific preservative, dye, or binding agent found in a manufactured product. A compounding pharmacist would be able to compound the same product without the allergy-causing agent.
• If a manufactured medication is discontinued, a compounding pharmacist may be able to obtain the bulk powder form of the medication and compound it into a similar dosage form.
• Pediatric or veterinary patients who may require a different dosage form (i.e., a solution rather than a tablet) or flavoring could benefit from having their medication compounded.
• A compounding pharmacist is able to combine multiple medications into one convenient dosage form, often increasing patient compliance.
• When patients are sensitive to medications, such as stomach upset from anti-inflammatory medications, a compounding pharmacist can prepare a transdermal formulation (i.e., cream/gel) that the patient would apply directly to the site of pain, avoiding adverse side effects.
Case Study
A 64-year-old male was diagnosed with diabetic peripheral neuropathy affecting the feet and toes one year ago by his family physician. He was initially started on Lyrica® but was switched to gabapentin due to the cost of Lyrica. He was instructed to take one gabapentin 400 mg capsule three times daily. The patient reported that he noticed some improvement in his feet after taking the gabapentin for a couple of weeks, but he was still bothered by the burning and tingling, especially after being on his feet for long hours. He then made an appointment with a podiatrist who prescribed a compounded transdermal cream containing ketamine
10%, gabapentin 6%, imipramine 3% and bupivacaine 2%. He was instructed to apply one gram of the medication to the feet and toes three to four times daily. After applying the transdermal medication as prescribed for a week, the patient reported that his feet were much more comfortable. He reported that his pain level typically decreased from an 8 to 9 on a scale of 10, down to 2 to 3 on a scale of 10 within 30 minutes after application of the topical medication, and the pain relief lasted a couple of hours. He stated, "After rubbing the medicine on my feet at night, I'm asleep within 20 minutes!"
Discussion
The use of tricyclic antidepressants for the management of pain associated with diabetic peripheral neuropathy is supported by several randomized, controlled studies. While the mechanism of action of these agents is not clear, it is thought that they inhibit the reuptake of norepinephrine and serotonin as well as affect sodium channels and N-methyl-Daspartate (NMDA) receptors (2). Despite the fact that this drug class is considered as a first line medication in the treatment of diabetic peripheral neuropathy, it is often not used due to its side effect profile. The anticholinergic effects of these medications, including dry mouth, blurred vision, and postural hypotension, make them an undesirable choice for treatment. In fact, up to one-third of patients who are prescribed tricyclic antidepressants are unable to tolerate these agents (2). It is unfortunate that these patients are unable to reap the benefits of these medications simply because of the side effects associated with them. However, via compounding these patients can receive the benefits while avoiding unwanted side effects of this class of medications. Because transdermal delivery allows medications to travel directly to the site of pain rather than having to be taken systemically, there are little to no side effects experienced.
Among other neurotransmitters involved in pain perception associated with diabetic peripheral neuropathy, NMDA receptor sites reside in the neural periphery (4). Both NMDA glutamate receptor antagonists, dextromethorphan and memantine, have been evaluated in painful diabetic neuropathy with results confirming their effectiveness (5). Antidepressants and ketamine produce multiple pharmacological effects that contribute to peripheral analgesia. According to an open-label study using topical amitriptyline 2% and ketamine 1%, an NMDA antagonist, in the treatment of neuropathic pain syndromes, long-term pain reduction was achieved. Furthermore, there was no significant systemic absorption of either medication (6).
Of the anticonvulsants used in the management of diabetic peripheral neuropathy, gabapentin is the most widely used. Damaged or demyelinated nerves spontaneously fire, have excess voltage and have extra-sensitive electrolyte channels in the affected area (7). Gabapentin is a calcium channel blocker that works to inhibit the release of excitatory neurotransmitters. There are undesirable side effects associated with gabapentin taken orally as well, including sedation, dizziness, and headache (7).
There are a number of studies that have determined the efficacy of lidocaine when used topically in the treatment of neuropathy, and more specifically diabetic neuropathy. The mechanism of action of lidocaine is believed to "reflect decreased ectopic discharges within peripheral sensory afferents (i.e., a selective effect on hyperexcitability), as pain relief occurs in the absence of anesthetic effects" (8). Because inflammatory processes can contribute to the pain associated with diabetic peripheral neuropathy, these agents prove even more beneficial since they also provide anti-inflammatory effects (8).
Until a few years ago, there were no studies performed to determine the ability of a transdermal cream to deliver medications through the human skin. This study proved that multiple medications could be rapidly delivered through the skin simultaneously (9). The transdermal delivery vehicle used in the compounded formulation utilizes liposomes to facilitate the movement of medications through the various layers of the skin. A liposome is a tiny vesicle made out of the same material as a cell membrane (10). These phospholipid bilayers encapsulate the medications and carry them through the skin to their action site.
Conclusion
Diabetic peripheral neuropathy is a common and serious complication of diabetes mellitus. If not properly managed, further complications such as foot ulcers and amputations may occur. Because of the side effect profiles of many of the first line treatment medications, compounded transdermal pain relief formulations, supporting multiple medications, may offer a beneficial alternative for those patients with diabetic peripheral neuropathy.
References
1. Cheing G. Diabetic peripheral neuropathy. Int J Ther Rehabilitation. 2010;
17(1):8-9.
2. Boulton A. Management of diabetic peripheral neuropathy. Clin Diabetes.
2005;23(1):9-15.
3. Illa I. Diagnosis and management of diabetic peripheral neuropathy. Eur Neurol. 1999;41(suppl 1):3-7.
4. Jones M. Chronic neuropathic pain: pharmacological interventions in the new
millennium. IJPC. 2000;4(1):6-15.
5. Sang CN, Booher S, Gilron I, Parada S, Max MB. Dextromethorphan and memantine in painful diabetic neuropathy and postherpetic neuralgia: efficacy and dose-response trials. Anesthesiology. 2002;96(5):1053-1061.
6. Lynch ME, Clark AJ, Sawynok J, Sullivan MJ. Topical amitriptyline and ketamine in neuropathic pain syndromes: an open-label study. J Pain. 2005;6(10):644-649.
7. Wamboldt C, Kapustin J. Evidence-based treatment of diabetic peripheral neuropathy. J Nurse Pract. 2006;2(6):370-378.
8. Sawynok J. Topical analgesics in neuropathic pain. Curr Pharm Design.
2005;11(23):2995-3004.
9. Evaluation of percutaneous absorption of ketamine HCl, gabapentin, clonidine HCl and baclofen in Lipoderm and Lipoderm ActiveMax. PCCA, Document #93881.
10. What is a liposome? 2011. http://www.news-medical.net/
health/What-is-a-Liposome.aspx. Accessed January 22, 2015.
Jessica DiLeo, PharmD, is a compounding pharmacist at Custom Meds, Inc. in Inverness, Florida. Dr. DiLeo received her doctorate of pharmacy in 2009 from the University of Florida and eventually became the owner of Custom Meds compounding pharmacy in 2011. She can be contacted at jessica@custommeds.com.