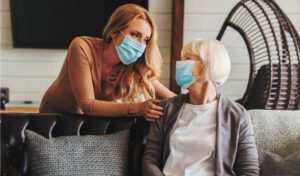 Not all senior communities are equal. If you are searching for a place to call home or looking to help a loved one find a senior community where they can thrive, Pacifica Senior living goes above and beyond the norm. For starters, our Executive Director is a highly experienced and well-regarded nurse. She makes sure the daily operations are organized and the staff is well-educated on numerous healthcare and dietary needs. Pacifica Senior Care also understands that residents are like family and making sure they are comfortable, and that they have their needs met are at the top of the list every day.
Having the availability to age through different stages or levels of care is an important need that many people overlook. At Pacifica Senior Living, we have independent living, assisted living, and memory care levels. These options are also attractive to couples, who may start out in independent living and discover that their spouse might need skilled nursing for a health need or memory care for cognitive decline or neurodegenerative disorders, which are unfortunately escalating worldwide.
Independent Living
Our Independent Living program is designed to give residents total freedom over their daily routine, providing peace of mind around activities like dining, driving, and housekeeping. As a part of the Independent Living program, our residents enjoy world-class retirement housing, vibrant life-enrichment programming, gourmet dining, and much more.
Each of our spacious senior living homes features ample living and storage space, kitchenettes with full-sized refrigerators, individually-controlled thermostats, and patios or balconies. We offer cable television and high-speed internet service in each and every home as well.
Assisted Living
Personalized care is at the heart of Assisted Living at Pacifica Senior Living Ocala. Our compassionate staff members provide customized care according to each resident's needs, and their care plans are created from assessments that help our team members best address each resident's unique daily needs. We offer medication management services and assistance with day-to-day activities, supporting our residents with tasks like bathing, dressing, and grooming.
Memory Care
Our LegaciesTM Memory Care program is specially designed for residents living with dementia and Alzheimer's disease, providing a unique approach to long-term care that is personalized for those navigating a memory-loss journey.
We use a dynamic, resident-centered approach for our Memory Care program to provide tailored care for each person according to his or her needs over time. Our memory care residents have access to caregivers 24 hours a day, with emergency call systems located in each of our safe and secure apartments. We provide a wide range of dementia care and Alzheimer's care for our residents living with memory loss, including dementia-specific programming, guided exercise, mobility assistance, and more.
There are multiple amenities that are available at Pacifica for their residents needs and enjoyment.
Dining
At Pacifica Senior Living Ocala, dining is an essential part of our commitment to resort-style senior living. Our residents enjoy chef-prepared meals three times per day, served hot and fresh in our beautiful restaurant-style dining room. Our dedicated kitchen staff handcraft meals to each resident's taste and nutritional recommendations, creating a world-class dining experience each time residents sit down to enjoy breakfast, lunch, and dinner at our community.
Life Enrichment
At Pacifica Senior Living Ocala, we provide a dynamic range of activities and events for residents, encouraging active living through exciting hands-on opportunities. Each day brings new chances for our residents to make friends with their peers and bond over shared interests, with new opportunities on our calendar each morning, afternoon, and evening.
Our team plans and designs activities with residents' interests in mind, including exercise classes, arts and crafts, movie screenings, social hours, group outings, devotional services, and much more.
Housekeeping
Housekeeping services are included with our Independent Living and Assisted Living programs, offering linen care, laundry assistance, and apartment maintenance to help residents feel at home in their surroundings.
Transportation
We provide scheduled shuttle services and transportation to help residents navigate the Ocala area. We help residents see doctors, go shopping, and more with total peace of mind about getting to and from their destination. When residents have questions about scheduling rides, our staff members are happy to help.
Pacifica Senior Living in Ocala, FL
At Pacifica Senior Living Ocala, our residents enjoy customized care, gourmet dining, life-enrichment programming, and much more. Our senior living community is staffed 24 hours a day, helping residents live with peace of mind while enjoying our luxury amenities and housing. We are happy to help families learn more about our community and how Pacifica Senior Living Ocala compares to assisted living facilities in the area.
Pacifica Senior Living also follows strict hygiene and disinfection protocols to keep our residents and staff safe!
It's easier than ever to take an initial tour— We have a link on our website to give you and your loved one a virtual tour at PacificaSeniorLiving.com. We're always
here to answer your questions or to set up a tour of our charming community.
Please call us at 352-414-4743.
352-414-4743