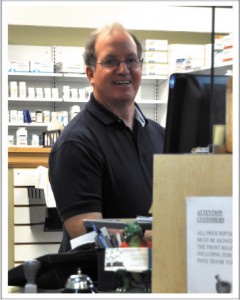 You are not alone if you worry about taking care of your diabetes. You have a lot of company. It's estimated that 23.6 million Americans have diabetes, with 1.6 million adults being newly diagnosed every year, and 57 million more Americans with "pre-diabetes", indicating a high risk of developing the disease. The cost of treating this group of patients is astronomical, upwards of 100 billion dollars annually, but it's the individual risks that keep you up at night.
Your doctor has probably already told you that as a diabetic, your risk of death is about twice that of a non-diabetic of similar age. This fact, along with all the complications that you have to live with, can be scary. Diabetes is the leading cause of kidney failure, blindness, heart disease and stroke. It causes poor circulation that can result in slow healing of sores and amputation. Add sexual dysfunction, high blood pressure, high cholesterol and impaired immune response, and it begins to seem overwhelming. However, by becoming knowledgeable about diabetes and taking advantage of a good support system, you can keep your diabetes in check and lead a normal, near complication-free life.
Let's cover some of the basic topics that you can affect. Don't get deterred if some of these things sound familiar, it's how you apply them that makes the difference. You don't have to starve, suffer or punish yourself. Simply reaching out to the resources around you can be the key.
Self-testing: No one likes to stick their fingers, but self-blood glucose monitoring is the cornerstone of diabetes management. Testing your blood sugar can tell you if your medication is working, how the food you eat affects you, and how that walking has helped to stabilize your blood sugars. Keeping a record of you blood sugars alone can help to improve your readings.
Diet: It's easier to make an impact than you think. It's not all about avoiding sweets. Balancing your intake of proteins, carbohydrates and fats can be a big help. Increasing your fiber intake is important, too. Add a fiber supplement, have a smaller meat portion, fewer processed carbohydrates (white breads, pastas) and a larger vegetable portion.
Make adjustments in stages so you get use to small changes and don't feel deprived. It helps to understand what your body does with the food you put into it. Talk to your health care providers. Your pharmacist can be a great resource between doctor visits so don't hesitate to ask questions.
Exercise: You don't have to lift weights or run a marathon. A little goes a long way. A brisk walk 3-5 days a week will burn calories, build muscle, improve your conditioning and improve circulation. It can even improve your mental outlook. Always talk to your doctor before beginning an exercise program.
Medication: Take your medication as prescribed. It sounds basic, but many people don't follow this simple rule. One of the easiest ways to improve your performance is to see your doctor regularly; A bare minimum of twice a year. If you have questions about your medication then talk to your pharmacist or doctor. A conscientious pharmacist will notice if you're not filling your medications on-time, and encourage you to take them as prescribed.
The right pharmacy and pharmacist can be a valuable part of your success. On average diabetic patients see their pharmacist 7 times more often than they see their doctor. Take advantage of that opportunity to talk to a health care professional. Bring your meter with you when you go to pick up your prescriptions. A pharmacist that takes responsibility of being part of your health care team will be happy to go over the testing procedure and talk to you about your medications. In this age of big chain stores and high volume economics, many of pharmacists don't have the time to perform old fashion patient care. A conscientious independent pharmacy can make up for this shortcoming in the system.
At The Medicine Chest, we strive to keep our patients as healthy as possible. Our pharmacists will work one-on-one with patients to help them better understand their prescriptions so that the patient is knowledgeable about their health. We believe that spending more time with patients rather than rushing out prescriptions, allows each patient to get the quality of care they deserve!
The Medicine Chest is a also a member of the Diabetic Pharmacy Network, and we pride ourselves on our comprehensive quality care of our diabetic patients. Studies have shown that patients who visit a pharmacist with an integrated diabetes education and support system show marked improvement in their blood sugars and other measures of their wellbeing.1
Taking some small steps, including finding the right partners in your health care, can make a big difference in your life. If you have any questions or wish to set up a consultation, call The Medicine Chest today at 352-753-1877, and take charge of your health!
The Medicine Chest offers a wide variety of other medical services and equipment.
• Drug compounding
• Durable Medical Equipment
• Retail health supplies
• Catheters
• Compression Sleeves
• Mastectomy fittings
• Ostomy supplies
• Nebulizers
And as always, we offer Free delivery and pickup!
Reference:
1 Cranor CW, Bunting BA, Christensen DB: The Asheville Project: long-term clinical and economic outcomes of a community pharmacy diabetes care program. J Am Pharm Assoc. 2003; 43:173-84.
Don Berisford is the Chief Pharmacist and owner of The Medicine Chest Pharmacy. A West Virginia native, he earned his BS in chemistry at West Virginia-WC. Don then went into WVU Pharmacy School where he graduated with honors. After a brief stint working as a hospital pharmacist, Don moved to the small farm town of Leesburg, Fl to pursue his calling as an independent retail pharmacist and opened The Medicine Chest in 1987. When Don moved to Leesburg, however, he had no idea that a small neighboring mobile home park would grow into the largest retirement home community in the nation, The Villages. Don has been in business now for 26 years and he has seen his small town grow from a mere 3,500 residents to a bustling population of over 90,000. In 2009, Don decided to move the Medicine Chest into the heart of the newest addition of The Villages, Lake Sumter Landing. This move put The Medicine Chest right in the middle of a brand new medical plaza with over 20 Doctor's Offices.