By Darla Miller, BS, MBA  –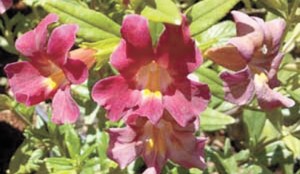 When we have some form of physical trauma, we tend to treat the physical aspect of the injury.  We take medications to heal the wound; we put ointments on topically to prevent infections. But, with every physical trauma, there's an emotional trauma that often times gets pushed into the emotional closet, locked up and not addressed. Unaddressed, our systems are not fully in balance. How can we address the emotional side of trauma? That can be a very difficult thing to do.
Flower essences are vibrational (homeopathic-like) remedies made from the flowers of plants. Dr. Bach was an English medical doctor who, in his search to find a gentler method of healing, created the 38 flower essences plus a few blends. From his research, he was able to determine which flowers were particularly helpful for specific emotional remedies. Flower essences, however, cannot directly cure any disease. Rather, they work on underlying emotional issues that may be contributing to illness or interfering with a person's healing. They also cannot take the place of medications or appropriate supplements in serious mental or emotional illnesses, such as clinical depression or anxiety disorders.
One flower essence blend that I particularly like is called Open Heart. This is specifically blended to focus on helping a person heal the emotional wounds and allows them to have an open, loving heart. It is designed to increase compassion and trust in relationships. This blend includes seven flower essences that specifically target this task.
California Wild Rose
Roses are given to open the heart to love. This flower essence helps to open the heart to experience feelings of love. It also helps when you experience fears, such as, terror or fright that makes you feel frozen and unable to move or think clear.
Baby Blue Eyes
This helps a person who lacked a healthy father figure in childhood. This person has "built walls", which makes them feel defensive, insecure and cynical. This provides a childlike innocence and trust and a feeling of being at ease with oneself.
Star Tulip
This is for people who feel hardened and helps promote the ability to be more sensitive and receptive. This allows a person to be more sensitive and receptive.
Yerba Santa
This is an important remedy for people who feel pressure or constriction in the chest due to unresolved grief. It helps to release trapped grief so that they can breathe freely again.
Evening Primrose
Helps people who feel rejected or unwanted. These folks may avoid commitments in relationships or be afraid of becoming parents. This provides the ability to be open emotionally and to form deep, committed relationships.
Pink Monkeyflower
This flower essence is great for folks who are insecure and who are emotionally hiding from others due to their fear of rejection. It helps a person have courage to risk being open and honest and to take emotional risks with others.
Golden Ear Drops
This flower essence allows a person to connect to repressed memories so that the healing process can begin.
Everyone experiences heartbreak at some time in their life. How we process this loss determines how quickly we heal emotionally. As a response to the loss, some people decide that it is too dangerous to experience loss again, so they close their hearts to avoid feeling close to anyone in the attempt to avoid feeling pain again in the future. Heart problems such as hardening of the arteries, high blood pressure or a heart attack could be signs that a person has closed themselves off. Also, diabetes and blood sugar problems could be a sign that someone has lost the "sweetness of life".
Your emotional health is as important as physical health. Strengthen your heart by balancing your emotions.
For more information, please call Darla Miller at (352) 315-4372. For more information about the Leesburg Herb Shoppe, please visit the website www.LeesburgHerbShoppe.com.
Darla Miller, BS, MBA is a Certified Aromatherapist and Consultant. She has over 20 years of experience working with plants in the natural environment. This experience provided a solid foundation for opening a natural product shop in Leesburg, Florida. Everything about our lives are about BALANCE – home, work, recreation. But, people often forget how important BALANCE is for our body. One of Darla's passions is learning about how proper nutrition and natural products help to balance our body systems and then teaching others so that they can begin to bring their systems into a balanced state.