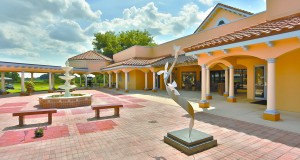 Every year, about 6,000 people facing difficult end-of-life decisions call Cornerstone Hospice.
The caring, compassionate professionals on staff are uniquely qualified and committed to providing help. Programs available range from grief support for patients and their families to community bereavement services.
There's Cornerstone SALUTES, which honors veterans. There's "Pet Peace of Mind," which keeps patients connected with their pets. There are many more programs, but it is the people administering them who truly make a difference in the quality of care Cornerstone delivers. The instant a call is received, Cornerstone has an interdisciplinary team at hand. Physicians, nurses, hospice aides, grief counselors, therapists, social workers, chaplains and our most valuable resource — trained hospice volunteers —  spring into action. Once they do, this extraordinary group of professionals is assigned to one patient and his or her family. The care is all-encompassing and on call 24/7.
While most patients prefer to travel their final journey surrounded by the comforts of home, those who can't will find the same comfortable level of care at Cornerstone.
The word "hospice" derives from medieval times, when "hospitality shelters" provided a refuge for sick or weary travelers on long journeys. Yet today, the word sometimes conjures up myths and fears. Every one of them quickly is dispelled during the first conversation with a Cornerstone counselor. If you or a loved one is nearing a life-limited stage of life, do not hesitate to call. The most heartbreaking question we hear — and we hear it more than any other — is "why didn't I call sooner?"
Cornerstone Hospice has been serving Lake, Sumter, Orange, Osceola, Hardee, Highlands and Polk counties in Central Florida for 30 years. For information about hospice or Cornerstone in particular, call or visit 888-728-6234 or
cshospice.org
.