By Bryan Carter, MPA-C, Phlebology-Surgery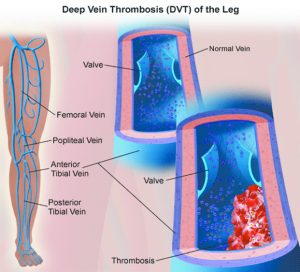 Have you ever noticed sensations in your legs that made you wonder if you should see a doctor, but since they seemed to subside, you ignored the symptoms away?  Many people overlook the life-threatening warning signs that could lead to an embolism.  If you've experienced swollen legs, tingling, burning or itching sensations in your legs, a feeling of heaviness, aching, cramping, or skin discoloration, you could have Deep Vein Thrombosis.
Every year, nearly one million people are affected by deep vein thrombosis, and sadly, approximately 100,000 of these cases end in death!  These are grim statistics since the treatment is minimal and so readily available to patients.   Along with the common indicators mentioned above, nearly half of the individuals that are affected by DVT have no symptoms at all.  Unfortunately, the majority of these people do not realize that they have a medical issue until it's too late!
What is Deep Vein Thrombosis (DVT)?
DVT's are a blood clot that can form in the legs or arms.  When a blood clot breaks free, it can travel to the lungs or brain and causes an embolism, which is when the thrombus or blood clot is moving through the vessels or arteries.  If it lodges in the lungs, it can cause death, and if it travels to the brain, it will cause a stroke, along with the probability of death.  If you have any discomfort in your limbs, it's imperative that you see a specialist.
What Causes DVT?
When a veins inner lining is damaged, by either trauma, biological, or chemical factors, blood clots can form deep inside the vein.  Varicose veins are an indicator of deep vein thrombosis.  When veins are impaired, they can lead to more severe health issues.  A medical professional will be able to report whether or not your symptoms are superficial, or unsafe and in need restorative treatment.
Although it can happen to anyone, the most common factors that put you at risk for DVT is sitting for extended periods of time.  If you are driving long distance, traveling by train, bus or plane, or perhaps you're deskbound at work, these lengthy episodes of sitting can all lead to deep vein thrombosis. Other causes are vascular malformations, pelvic tumors, a family history of varicose veins, smoking, being overweight, pregnancy and an overall sedentary lifestyle.
Symptoms:
• Prominent varicose vein
• Heavy aching legs
• Leg swelling
• History of a previous clot
• Family history of blood clotting
• No Symptoms
Because the veins and arteries balance each other out, when a person experiences chronic symptoms, it's critical to see a physician.  If the veins are damaged, it's not unusual that the arteries are not pumping blood efficiently either.  DVT's and Chronic venous insufficiency can be fatal and must be treated to prevent further damage to your circulatory system and your overall health.
Celebrity and Pro Tennis player Serena Williams suffered a DVT, which led to a pulmonary embolism.  Thankfully she had a successful emergency surgery that saved her life.  Shortly after having heart surgery, television host, Regis Philbin, also suffered from a DVT.  He developed pain in his calf, and after further investigation, the clot was discovered.  Luckily, he too was treated and had a successful outcome.  However, NBC News journalist, David Bloom, wasn't so fortunate.  He was killed by a DVT while reporting on the war in Iraq.
If you or a loved one has any of the venous symptoms or risk factors discussed above, you must seek medical attention immediately!  Making an appointment with a phlebologist, which is a vascular surgeon specializing in venous disease is your best line of defense against this common disorder.
Treatment Options for Venous Insufficiency
• Compression Stockings
• Gradient Compression Devices
• Increased Exercise
• Medications
• Surgery (Usually through minimally invasive catheters, or ultrasound)
At the Heart of the Villages, Bryan Carter specializes in venous issues and leg health, taking great pride in getting to know his patients on an individual level.  He is supported by a full-
service cardiology practice.  Mr. Carter is a previous Army combat medic who obtained his Masters in Physician Assistant studies with a thesis in Venous Disease and Treatment. Mr. Carter has been treating vein problems since October 2002 and was one of the first Physician Assistants to perform thermal ablation—a treatment that soon made traditional vein stripping extinct. Bryan has personally trained physicians, physician assistants and nurse practitioners throughout Florida and Georgia and is an active member of the American College of Phlebology. He is also one of only a few to be inducted into the American Venous Forum.
To find out more, please visit their website at heartofthevillages.com, or call their office to schedule your appointment at, (352) 674-2080.
Heart of the Villages
Bryan Carter, MPA-C
8575 NE 138th Lane
Lady Lake , FL  32159
(352)-674-2080
Toll Free: 1-855-432-7848 (Heart 4 U)
www.heartofthevillages.com