Rivers Family Medicine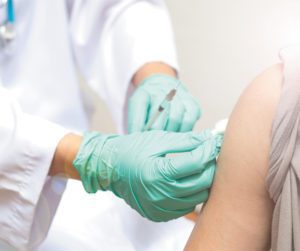 Do you need to get vaccinated for pneumonia? If so, now is an important time to do so. Pneumonia is an infection of the lungs that may be caused by bacteria, viruses, or fungi. The infection causes the lungs' air sacs (alveoli) to become inflamed and fill up with fluid or pus. That can make it hard for the oxygen you breathe in to get into your bloodstream. The symptoms of pneumonia can range from mild to severe, and include cough, fever, chills, and trouble breathing.1
Many factors affect how serious a case of pneumonia is, such as the type of germ causing the lung infection, the person's age, and their overall health. The people most at risk are infants and young children, adults 65 or older, and people who have other health problems. Pneumonia is a leading cause of hospitalization in both children and adults. Most cases can be treated successfully, although it can take weeks to fully recover. Tens of thousands of people in the U.S. die from pneumonia every year, most of them adults over the age of 65.1
How Vaccines Work with your Immune System
According to the CDC, the following are the various types of immunity via immunizations: Immunity to a disease is achieved through the presence of antibodies to that disease in a person's system. Antibodies are proteins produced by the body to neutralize or destroy toxins or disease-carrying organisms. Antibodies are disease-specific. For example, measles antibody will protect a person who is exposed to measles disease but will have no effect if he or she is exposed to mumps.
Active Immunity
Active immunity results when exposure to a disease organism triggers the immune system to produce antibodies to that disease. Exposure to the disease organism can occur through infection with the actual disease (resulting in natural immunity), or introduction of a killed or weakened form of the disease organism through vaccination (vaccine-induced immunity). Either way, if an immune person comes into contact with that disease in the future, their immune system will recognize it and immediately produce the antibodies needed to fight it. Active immunity is long-lasting, and sometimes life-long.
Passive Immunity
Passive immunity is provided when a person is given antibodies to a disease rather than producing them through his or her own immune system. A newborn baby acquires passive immunity from its mother through the placenta. A person can also get passive immunity through antibody-containing blood products such as immunoglobulin, which may be given when immediate protection from a specific disease is needed. This is the major advantage to passive immunity; protection is immediate, whereas active immunity takes time (usually several weeks) to develop. However, passive immunity lasts only for a few weeks or months. Only active immunity is long-lasting.
If you're child needs immunizations or if you think you're due for a titer or booster, don't hesitate, call Rivers Family Medicine to schedule an appointment.
Do You Need Telehealth-Virtual Visit?
Rivers Family Medicine offers comprehensive care all within their office. They also have implemented telehealth for the convenience and safety of their patients and staff.
NOTE: All Sick Visits will only be Televisit to maintain safe distances and reduce exposure.
To best serve our patients we will be operating with our regular business hours Monday – Thursday 8 – 5 and Fridays 8 – 12. For our staff and patient protection we are not allowing any patients to sit in the waiting room. All patients upon arrival will wait in their car outside until a Nurse can check your temperature and verify you have no common cold symptoms. Call us if you do not feel well and we can triage and evaluate your symptoms.
Rivers Family Medicine continues to provide their patients with the highest quality of care; they are continually looking for innovative methods of working together with their patients to ensure that they are not only aware of but also involved in the management and improvement of their patient's health.
River's Family Medicine Services:
They offer a variety of onsite services for your convenience and to help assists in your care:
• In house laboratory
• Ultrasound
• Echocardiograms
• Electrocardiograms
• Nuclear stress testing
• Pulmonary function testing
• Joint injections
• Skin biopsies and minor skin procedures
• Immunizations
Dr. Erin Dariano has been with Rivers Family Medicine for 2 years. Dr. Dariano was been practicing Family Medicine in Lima Ohio at Lima Memorial Hospital for the past seven years. Dr. Dariano, D.O, Completed her undergraduate degree at Bowling Green State University, and her medical degree at Ohio University College of Osteopathic Medicine. She is a board certified D.O., Doctor of Osteopathic Medicine. Dr. Dariano is committed to providing thorough, compassionate, mindful care for her patients.
To schedule an appointment with Rivers Family Medicine, please call (352) 205-4302.
Rivers Family Medicine
352-205-4302
www.riversfamilymedicine.com
1503 Buenos Aires Boulevard, Building 110
The Villages, FL 32159
Source: 1. https://www.lung.org/lung-health-diseases/lung-disease-lookup/pneumonia/learn-about-pneumonia