The Blair Technique has helped Countless Individuals find Relief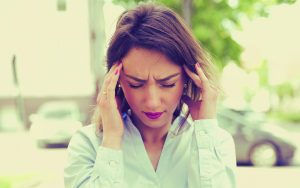 If you have a headache, you're not alone. Nine out of 10 Americans suffer from headaches. Some are occasional, some frequent, some are dull and throbbing, and some cause debilitating pain and nausea. What do you do when you suffer from a pounding headache? Do you grit your teeth and carry on? Lie down? Pop a pill and hope the pain goes away? There is a better alternative.
A Natural Alternative with Exceptional Results
Research shows that spinal manipulation – one of the primary treatments provided by doctors of chiropractic – may be an effective treatment option for tension headaches and headaches that originate in the neck. A 2014 report in the Journal of Manipulative and Physiological Therapeutics (JMPT) found that interventions commonly used in chiropractic care improved outcomes for the treatment of acute and chronic neck pain and increased benefit was shown in several instances where a multimodal approach to neck pain had been used.1 Also, a 2011 JMPT study found that chiropractic care, including spinal manipulation, improves migraine and cervicogenic headaches.2
Furthermore, upper cervical chiropractic shows to have the most significant effects of correcting the cause of most headache and migraine symptoms. Upper cervical chiropractors analyze the uppermost part of the neck through motion studies, thermography, and X-ray analysis. Dr. Enrico Dolcecore at Full Life Chiropractic utilizes the Blair Upper Cervical Technique. This technique uses X-ray and even cone beam CT imaging to view the first vertebrae in the neck and its position under the skull. When misaligned the muscles of the head and neck are pulled, and the nerves from the brain stem are stressed resulting in dural tension. These tensions create headaches and even migraines. Re-alignment of atlas under the skull optimizes the space and balances the tension in the nerves and muscles resulting in relief.
Adjustments of the upper cervical spine utilizing the Blair Technique do not require twisting or turning of the head. No major force or crack is heard with the adjustment, and the adjustment is safe for all patients from infants all the way up to seniors over the age of 100. The procedure takes just a few minutes and does not need to be frequently repeated.
Headaches and migraines can start in childhood or develop after a sports injury, car accident, or concussion. Repetitive poor posture at a desk or when using smart devices can lead to text neck, forward head posture, and even degeneration of the spine. All of these scenarios will cause chronic pain including but not limited to headaches, neck pain, shoulder stiffness, and decreased range-of-motion.
Along with chiropractic care Full Life Chiropractic offers massage therapy and acupuncture. Both therapies can benefit in repairing muscles from tension damage, scar tissue, or other injuries by restoring blood flow and healing to the area. Nutrition can play a big role too. The doctors make sure to review your food and nutrition and make adjustments to suit your needs.
Full Life Chiropractic
Dr. Christine Hafer and Dr. Enrico Dolcecore are a husband and wife team offering comprehensive chiropractic care for the entire family.  For more information visit FullLifeTampa.com or BlairChiropractic.com. If you are ready to resolve your chronic headaches and migraines, please book an appointment by calling their office at 813-428-5648.
REFERENCES:
1. Bryans R, Descarreaux M, Duranleau M, et al. Evidence based guidelines for the chiropractic treatment of adults with neck pain. J Manipulative Physiol Ther 2014; 37: 42-63.
2. Bryans R, Descarreaux M, Duranleau M, et al. Evidence based guidelines for the chiropractic treatment of adults with headache. J Manipulative Physiol Ther 2011; 34: 274-89.