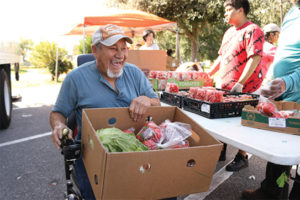 The hunger landscape is changing, affecting more than those living below the poverty line. At Feeding Tampa Bay, the majority of those we serve are hardworking families whose wages are unable to meet or surpass the ever-increasing cost of living. Our hungry neighbors don't just need a meal, they need access to resources that can propel them forward out of poverty and into a life full of health and capability.
Feeding Tampa Bay's core belief is that no one should go hungry. We know that every one of our neighbors has the potential to live a healthy and prosperous life, and we plan to help them get there. Our plan is centered around four pillars built to evolve, energize, engage, and empower those facing food insecurity. Feeding Tampa Bay aims to change the manner in which food is distributed, increase the amount of nutritious foods available, connect individuals with additional resources throughout the community, and offer a training program that develops professional skills to those with barriers to the workforce. This combination of tactics will push us forward to a hunger-free Tampa Bay by 2025.
What does hunger-free mean? Feeding Tampa Bay is committed to creating a 10-county region where anyone in need will have access to healthy food options and information on all resources available to them.
Imagine a community where everyone has fresh, nutritious foods and lives healthy, fulfilled lives.
You have a role in this. Whether you share our message, share your time, or share your resources, we invite you to join the movement! Together, we will provide our neighbors with food for today, food for tomorrow, and food for a lifetime.
To volunteer or donate – visit www.feedingtampabay.org for more information.
Hunger-free. Imagine That.
Feeding Tampa Bay Fast Facts:
• 1 in every 7 adults and 1 in every 4 children in Tampa Bay struggle with hunger
• Feeding Tampa Bay is committing to a hunger-free Tampa Bay by 2025
• Feeding Tampa Bay is committed to getting the right food, in the right ways,
to those who need it – providing 115 million meals every year by 2025
• 80% of the food we deliver in the future will facilitate health in the lives of our neighbors
• Community Empowerment Centers will be present across our 10-county service territory to provide multiple food options, convening resources and training opportunities for those we serve
• Our FRESHforce program (work-force development) will invest in individual capacity through certified job skills training and employment connections
• Partnerships with healthcare providers throughout our region will support fresh produce pantries, food pharmacies and emergency food dispensaries