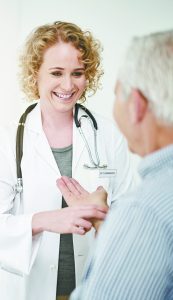 These days, most of us are deeply aware of the importance of staving off cancer to the best of our ability, but how are we really doing in that department?
Cancer Prevention Quiz
1. Would you say that your diet is mostly fruits and vegetables, or made up of processed convenient foods?
2. Do you drink more than one alcoholic beverage per day or more than seven drinks per week?
3. Do you smoke?
4. Do you exercise regularly?
5. Do you avoid excessive sun exposure, or protect yourself with sunscreen frequently?
6. Do you keep stress levels at a minimum?
7. Do you get the required amount of sleep?
8. Do you have regular cancer screenings?
Looking at the list, I'm certain there are probably a few things that we could use a little more help with, like keeping stress levels down, which is not easy to do in our fast-paced world.  And given all of our daily sun exposure here in Florida, it's important to remember to not only wear your sunscreen but also to reapply it every 2 hours. This sunblock is not only imperative for direct sun exposure, but includes extended periods of sitting by a window as well.
One of the most overlooked preventative methods on this list is probably getting regular cancer screenings.  For women, these include mammograms, cervical cancer screenings through pap tests, skin cancer screenings and colorectal screenings.  For men, it's skin cancer screenings, colorectal and prostate screenings.  If you have a family history of any cancer, for example, thyroid cancer, it's a good idea to start
screening for those particular cancers early.
These tests should be performed annually, or at your physician's recommendations.  For example, when a small rectal polyp is present,  it grows at an extremely rapid rate. These polyps are what cause colorectal cancer, so getting a colonoscopy is a very straightforward and crucial step.  Despite the embarrassing
connotations that follow this procedure, it literally can save your life if you are diagnosed with polyps.
Women that receive annual pap tests are preventing cervical and other genital cancers.  When these precancerous lesions are discovered early, they can easily be removed and monitored right in your gynecologist's office.  Cervical cancer is a fast-growing disease that can lead to death if not caught in its pre-stages.
There are vaccines available today that can help individuals at high risk for hepatitis B the HBV vaccine will help lower their risk of liver cancer.  There is also the HPV vaccine that is highly recommended for teen girls and boys to prevent the HPV virus that causes cervical and genital cancers.
What should we be eating?
Avoiding processed food like lunch meats, hot dogs and smoked meats, minimizing excessive dairy, cutting out chemical laden carbohydrates like most bread, desserts, enhanced colored foods with dye and frozen foods will keep you healthy.  A simple diet of fresh vegetables, fruit, fish, poultry, legumes, nuts and some red meat is a good rule to follow.  Cutting out things like butter, especially margarine, and unhealthy fats is imperative in keep cancer cells at bay.  A healthy alternative to saturated fats is olive oil, avocado, and natural nut-butters.  It's always best to speak with your physician about a diet that's right
for you.
21st Century Oncology is committed to cancer prevention and keeping patients comfortable and informed.  Your questions and concerns are highly valued, and your physician will explain your screening, testing, or procedures to you in detail.
With over 30 years of experience in radiation oncology, 21st Century Oncology offers exceptional cancer treatment, close to home in Citrus and Marion Counties.
For more information on their services, locations or staff, please visit www.21co.com/centralfl, or call the Ocala office at (352) 291-2495, or the Beverly Hills office at (352) 746-1100.