Submitted by Hospice of Marion County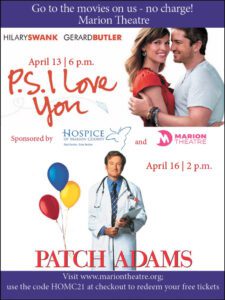 Making end-of-life decisions and having "the talk" with family members can be a daunting task, but it's the best gift you can give to your loved ones. National Healthcare Decisions Day is April 16, a national day of increased education about the importance of having advance directives and planning for the unexpected medical crisis.
A pair of sensitive movies on grief and loss is the focus for this year's partnership between the Marion Theatre/Reilly Arts Center and Hospice of Marion County in recognition of National Healthcare Decisions Day. Both movies will have a discussion before and afterward to address questions that may arise during the movie.
Two films are offered to the public at no charge — Mark your calendar for showings of the mini film series Feel Better/Live Better:
• Tuesday, April 13, 6 p.m. P.S. I love you starring Hilary Swank and
• Friday, April 16, 2 p.m., Patch Adams starring Robin Williams
Tuesday's April 13 showing is in the main theatre. The discussion starts at 5:30 p.m.; film starts at 6 p.m. Friday's April 16 will be viewed in the upstairs theatre; the discussion at 1:30 p.m.; film starts at 2 p.m.
Even though these outstanding films come with no ticket price, an RSVP is required for a pass through the website, www.mariontheatre.org; enter this code HOMC21 to redeem your free tickets. The code is good for both movies.
All standard COVID protocols will be observed: distanced seating and masks are required at all times while inside the venue.
"This film series follows our goal to recognize and accept grief in our everyday life," said Jessica McCune, Community Awareness Manager, Hospice of Marion County. "As we find that safe place in our mind and soul to hold pain and peace, side by side, we are able to know more joy in life. How wonderful to use the strength in art and film to teach us as we follow wisdom." Jessica, a nurse and grief facilitator, will lead the discussions and distribute advance directives to guests.
Hospice of Marion County (HMC) has been at the forefront of activities to support National Healthcare Decisions Day since 2012 with the Conversation Project begun by columnist Ellen Goodman. HMC followed suit with its own booklet, The Talk, which, along with Living Wills, will be available at the event. These are simple to fill out, no attorney is necessary and they are legal in all states.
The main objective is to draw people's attention to the ability to make our own healthcare decisions. Who wants to upset the family with such an unpleasant discussion? It's one of those uncomfortable topics we assume is best swept under the rug until another time. Nothing could be further from the truth and too often that talk comes too late. Making decisions for others is decidedly even more complicated than those for ourselves, especially when that person – someone beloved – can no longer speak for him or herself. In the end, having the talk is the best gift you can give to yourself and your family.