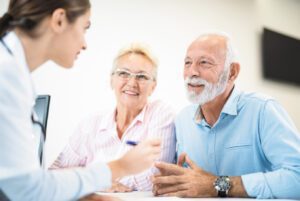 There are so many trends in eye and vision care that people can sometimes be talked into getting – or even requesting – procedures they don't need. One example is cataract surgery, which has advanced so much in recent years that it takes little time to perform and is done on an outpatient basis. Many of us know someone who has had cataract surgery and were impressed with the clarity of their new and improved vision. Seeing a neighbor become less dependent on glasses can inspire some people to request cataract surgery they don't need in order to get vision-correcting intraocular lenses (IOLs) and have the procedure covered by Medicare. In other cases, a less-than-scrupulous eye doctor may suggest that cataract surgery is warranted when it is not. "When a cataract is impairing your vision, cataract surgery provides both clearer vision and protection from cataract-related blindness," says ophthalmologist Dr. Scott Wehrly. "But when no cataract is present, or it is so early in its progression that it isn't really interfering with vision, cataract surgery isn't necessary. Any doctor looking to perform unnecessary surgery is not one I would trust, especially not with something as valuable as one's eyesight."
Another surgery that may or may not be medically necessary is blepharoplasty, or eyelid surgery. Drooping, excess eyelid skin or sagging lower eyelids can cause vision problems and invite chronic infections, interrupting daily activities like driving, reading or seeing the floor in front of you, which can be potentially hazardous. These conditions may make blepharoplasty medically necessary. People whose eyelids make them appear tired or haggard but don't seriously impact vision may choose to have cosmetic eyelid surgery, which is an elective procedure. "I perform eyelid surgery for patients for both medical and cosmetic reasons," says comprehensive ophthalmologist Shelby Terpstra, DO. "But it is important to outline the difference for people, as medical blepharoplasty is defined by specific guidelines and functional problems, and elective blepharoplasty is something a person might choose to have to look and feel more refreshed. I perform a lot of medically necessary and cosmetic eyelid surgeries, but there are certain circumstances under which I would advise against it." Certain health conditions and other factors can render some people poor candidates for eyelid surgery. "There may be surgeons willing to do this for you if you ask, but if they don't bother to learn about your health background first, be wary."
"Always impressed by the conversations I have with the doctors here," says Lake Eye patient Gil Worden, who was considering eyelid surgery.
After a thorough exam, Dr. Wehrly advised against it due to risk factors in Gil's health profile. "I was impressed with their honesty in giving me reasons why [eyelid] surgery was not the best option for me," says Gil. "They think things through and I never feel like they're wasting my time."
"Just because a patient is willing or even wanting to have a procedure done, it doesn't mean it's always in their best interests," says Dr. Wehrly. "Quality treatment needs to be customized to each patient based on their health data and personal goals. We want people to know they can trust our diagnoses and recommendations, and that we always place their safety above all else."
For comprehensive vision care designed to provide a lifetime of healthy vision, contact your local Lake Eye. We're here to give you what you need and never suggest anything you don't.
Lake Eye
352-775-1533 . LakeEye.com