Home Solutions Real Estate Team | 813-549-0870 | www.tampahome360.com
The Unincorporated Territory:
Wesley Chapel, Lutz & Land O' Lakes
The Four Corners Monument marks a spot where Utah, Colorado, New Mexico, and Arizona meet. There is a similar place here within the unincorporated territories of Wesley Chapel, Lutz, and Land O'Lakes. These three communities are bound together with a mixed and sorted boundary line – you may not know where you are. The good news, as a resident of one of these communities, you can enjoy the benefits of each area as part of your hometown.
Railroads, churches, and stagecoach relay stations signal the humble beginnings of this unincorporated territory. From those days long ago, these three communities have grown beyond expectations. As outlined in the Multiple Listing Service, there was a total of 940 Single Family Homes built in 2018 that have sold, and an additional 199 Townhomes sold that were also built in 2018. Leading the field for Single Family Home growth is Wesley Chapel, with the development of popular new communities such as Epperson Ranch and Estancia. In addition to new communities, increased growth has given new life to familiar neighborhoods such as Meadow Pointe and Country Walk.
2018 Single Family Homes Built and Sold
Wesley Chapel: 540
Lutz: 103
Land O'Lakes: 297
The Unincorporated Life
These communities cannot call themselves a "city" or even a "town." Instead, they have been labeled as Census Designated Places (CDP). Not long ago there was talk of incorporating Wesley Chapel, but this idea was quickly dismissed. The conversation hasn't even begun for Lutz and Land O'Lakes. Residents comment that they are perfectly happy without the added property taxes required to become a full-blown city and support a local municipal corporation's budget. In turn, these communities sacrifice city government, city police, and other localized government services.
Regardless of this area's official title, they have sought out places for residents and businesses alike. BestPlaces.net claims Wesley Chapel's job growth over the next ten years will exceed the national average by 10%.
Price Rankings
Wesley Chapel (Figure 1)
Wesley Chapel has seen a small dip in pricing over the past year. This can be attributed to the increased inventory available. When there are a lot of homes on the market, there tends to be a shift down in value. When there are a lot of new construction options for buyers, the resale market tends to suffer.
Lutz (Figure 2)
Lutz has seen an incredible increase in value over the past year. Unlike Wesley Chapel, the inventory in Lutz continues to be drastically low, which will always force prices up. In the Lutz 33548 zip code there is a small red flag showing. A drop in value, for this zip-code, of 23% from this point last year compared to 2019 can be attributed to the new construction culprit, with large amounts of inventory in communities like Sylvan Crossing and The Promenade at Lake Park.
Land O'Lakes (Figure 3)
Land O'Lakes is our middle ground. Inventory is still low, but the influx of less expensive new construction townhomes has skewed the market, resulting in a slight dip in values compared to last year. Overall, values have increased, and homes appear to be in high demand. Job growth in neighboring Trinity/Odessa has helped to grow popular westside neighborhoods like Bexley where there are currently 60-active listings, and an amazing 90 properties have already sold this year.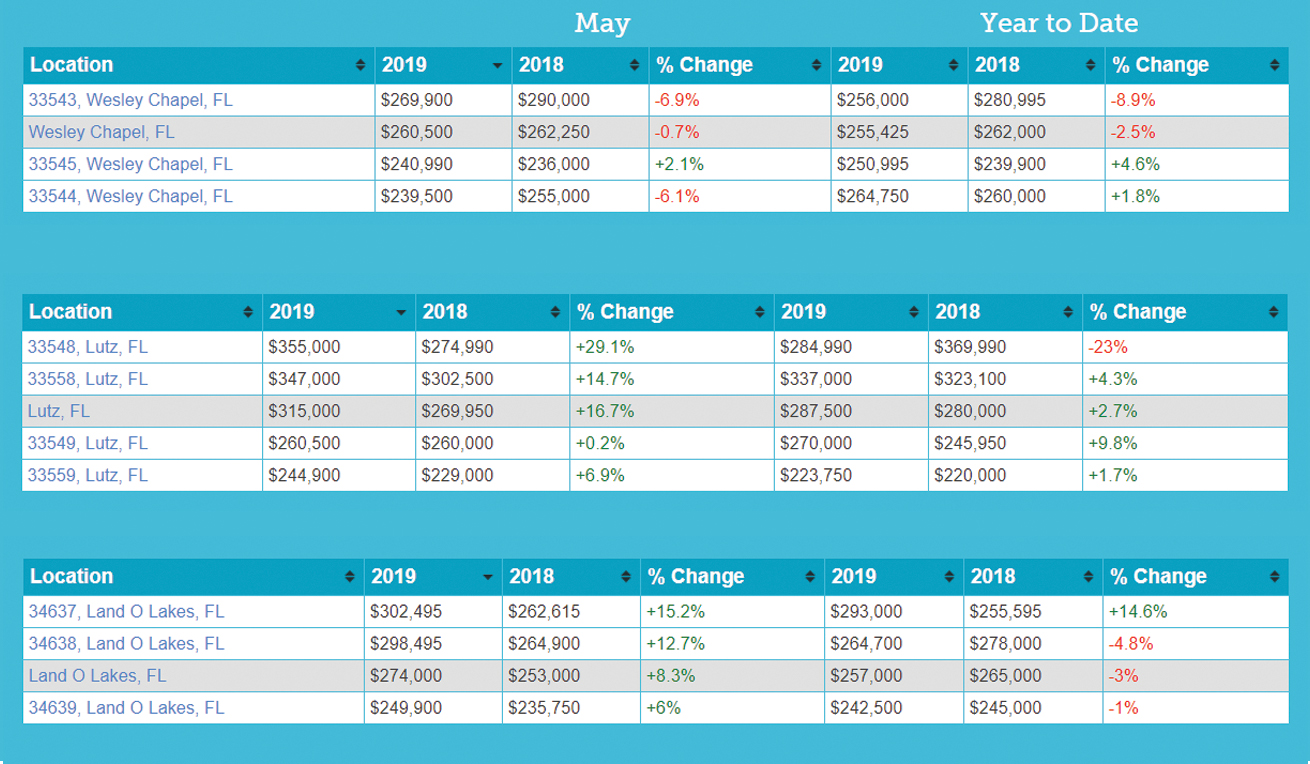 In the end, if you are looking for a place to call home, any one of the unincorporated territories is sure to provide long-lasting joy with their abundance of shopping, dining, and entertainment venues. Proximity to the 'big city' is also an added value even with a little traffic. Once you are home – You are HOME. Whether you choose Wesley Chapel, Lutz or Land O'Lakes, you feel like you're in the big city while nearby, you find yourself looking at a pasture full of cows.
There has been talk of a possible downturn in the real estate market. For the unincorporated territories, I feel there is only a bright future ahead. The combination of job growth, amenities, outstanding medical establishments, state parks, and good schools will continue to fuel the area's growth and value.
Home Solutions Real Estate Team | 813-549-0870 | www.tampahome360.com