By Danielle Rosier, Au.D.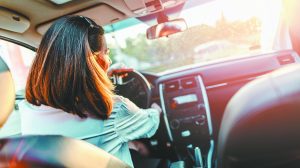 Doesn't it drive you crazy following a car on the interstate with the blinker going for miles?  Or the vehicle that goes through a stopped intersection clearing the way for an emergency vehicle?  How about the person who pulls out in front of you who cannot hear your horn warning them that you're right there?  These things happen every day.
Safety awareness while driving is something that many of us take for granted.  Each year, nearly 1.6 million vehicular accidents take place in the U.S.  We can become careless without considering how dangerous the roads can be, especially here in Florida.
In the United States, each year over 300,000 accidents are caused by texting while driving.  Texting causes 1 out of every 4 vehicular accidents.  In our country, the number one cause of death for teens is texting and driving.
Even the most experienced driver can become distracted or have an increased need to become overly reactive due to circumstantial events.  For example, if you have faulty brakes or are startled by a car in your blind spot, swerve while looking at your phone, you are a less responsive driver.  Every time any driver enters the road way, they must be aware of their surroundings, as well as use cautious discretion regarding the other automobile drivers around them.
Hearing affects your driving too!
Now imagine that along with visual, manual, and cognitive (the top three), you add in hearing loss.  You may not think that hearing is crucial to safe driving, but it does have a profound effect on our reactions.  For example, when sirens are blaring, but out of direct sight, individuals with hearing loss may have a difficult time pulling over in a timely manner.
When other drivers blow their horns, it's very often to warn us about an impending danger.  Dangers like evading an erratic driver, or urging us to stop backing up in reverse when we are close to hitting another car.  When a hearing loss is suspected, it's critical to seek a diagnostic hearing evaluation provided by an audiologist to determine the nature and severity of the hearing loss.
When you get behind the wheel and venture out, along city streets and interstates, you may not always take into consideration that driving can be such a hazardous journey.  This is particularly the case locally since Florida has the second highest rates of accidents due to distracted drivers.  So along with staying safe, hearing well is imperative.
At Professional Speech and Hearing Specialists, we know how important hearing is to your life and relationships.  That's why our Audiologists are much more than just experts in the latest hearing technology.  We take the time to get to know you and your specific hearing challenges so that we can create a better hearing plan customized to your needs.
• Credentialed, experienced audiologists who stay up-to-date with the latest in hearing care research
• Recommendations that put our patients' interests first
• Access to the latest hearing technology—not "new" technology that was new three years ago
• A comprehensive, collaborative approach to helping you hear better
• Follow-up adjustments and hearing re-training programs that are included as an integral part of your investment in better hearing
Anyone can simply sell you a hearing aid.  Professional Speech and Hearing Specialists offer the expertise, professional service, and continuing support that it takes to truly experience success with better hearing, and to take full advantage of today's highly sophisticated, programmable and Bluetooth enabled hearing devices.   To find out more, please contact Professional Speech and Hearing at 352-351-3977.
www.timetohear.com
Danielle Rosier, Au.D.
Doctor of Audiology
Dr. Rosier is one of the four Audiologists at Professional Speech and Hearing Specialists.  She graduated summa cum laude with a Bachelor of Arts degree in communications sciences and disorders from the University of Florida, and upon completion, stayed at the University of Florida to complete her Doctorate in Audiology. She is currently a fellow member of the American Academy of Audiology and on the board for the Hearing Loss Association. Dr. Rosier's areas of expertise include diagnostic hearing evaluations, hearing aid fittings, and aural rehabilitation.