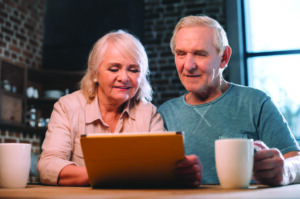 Has the pandemic made hearing loss an even greater challenge for you or a loved one? You're not alone. From increased isolation and difficulty following virtual conversations to managing hearing aids while wearing masks, clear communication can feel like an uphill battle for many in today's times.
At Audiology & Hearing Center, we're here to help. In addition to providing the highest quality hearing health care in a safe and welcoming environment, we're offering practical communication tips to help keep you empowered and engaged:
Video-chatting for people with hearing loss
Wearing hearing aids with a face mask
As more conversations move online whether for work or fun times with family and friends, video chats have become part of the new norm. Speaking through screens and monitors rather than in person, however, can come with some roadblocks — especially for those with hearing difficulties. Our videoconferencing tips for people with hearing loss can help.
Get to Know the Platform
Whether using Skype, FaceTime, WhatsApp, Google Meet, or another option, familiarize yourself with the videoconferencing software ahead of time.
Exploring the software settings — including audio preferences, screen views, backgrounds, and more — can help you approach chats with confidence.
Optimize Your Environment
Set up your virtual communication in a quieter area of the house.
Close the room's door and — in the case of loud outdoor sounds — nearby windows to curb noise.
Turn down the TV and radio to limit competing sounds.
Wear connected headphones, which can help improve audio quality and further block out noise.
Adjust the room's lighting and screen's brightness to aid in lipreading and seeing facial expressions.
Leverage the Features
Functions such as closed captions can help you follow the conversation in real time.
The chat window can be an asset – especially in group conversations – to ask clarifying questions if you missed a point or want to follow up.
Some videoconferences may also be recorded for helpful playback later, so be sure to ask the host, who may need to initiate the recording option.
Maximize the Power of Streaming
Did you know? With today's sophisticated hearing aids, you can receive audio from your compatible smartphone, tablet, laptop, desktop computer, stereo, or other device — directly to your ears, making it even easier to engage in virtual conversations.
Want more virtual-communication tips? Winter Haven Audiology & Ridge Audiology are here to help. Call our Doctors of Audiology at (863) 594-1976 today for strategies and solutions to stay fully connected in a changing world. You can find our Doctors and other healthy hearing tips online at WinterHavenAudiology.com.\
510 1st St S
Winter Haven, Florida 33880
704 SR 60 E
Lake Wales, Florida 33853