By Laura Bittner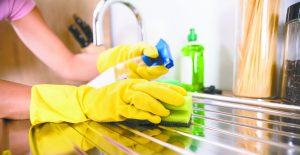 The 2018 flu season has been a severe one. According to the Center for Disease Control and Prevention (CDC), our current flu season is the worst in a decade. The individuals most at risk are children up to eight years old, adults, over 50 and individuals with chronic medical conditions.  However, even adults considered "in good health" have become severely ill from this year's flu strains. Although the number of cases of influenza appears to be leveling off, cases of the flu are expected to remain elevated in the coming weeks. If someone in your home or workplace has recently had the flu, there are steps you can take to ensure you, your home, and the people you love won't become infected too.
Cleaning your home during or after someone you live with has the flu is another form of prevention. Flu germs can last on surfaces for up to 72 hours and can spark a cycle of illness in your home if not cleaned. If someone you live with already has the flu or has come into contact with someone who has the flu, avoid close contact with that person, and ask them to be sure to cover their mouth if they cough or sneeze, as the illness is spread through respiratory germs. Pay close attention to ensure any tissues are being placed directly in the wastebasket, instead of accumulating on household surfaces. Wash your hands often, and be sure not to touch your mouth, nose or eyes often. Airing out your home can be a good idea during a family member's illness and afterward. While old, stale air is carried out, new air is brought into the home.
Use paper towels or other disposables to clean instead of sponges, because sponges store bacteria and are difficult to sanitize fully. When choosing cleaning products, either bleach or a mixture of vinegar and water, or vinegar and baking soda are about as effective. You can also use a mixture of rubbing alcohol and water. Although it can be tempting to use a lot of harsh cleaners while disinfecting for the flu, the CDC warns against this, as fumes from such cleaners can aggravate those with already sore throats or those with breathing issues.
The main areas to pay attention to while cleaning are surfaces the flu-infected person came into contact with. Countertops (in the bathroom and kitchen), doorknobs, light switches, phones, computers, remote controls and handles on appliances, sinks or drawers. Q-tips can be used for smaller areas such as between buttons on a remote control, phone or computer.
Be sure to wash and dry any bedding (including pillowcases), clothing, towels, and washcloths they used while sick. Wash and dry any fabrics on the hottest setting. While the person in your household is still ill, consider putting an additional layer or blanket between them and the mattress, to avoid having to deep clean their mattress due to sickness sweat seeping into the mattress. The same idea goes for pillows, with a pillow protector. Stuffed animals and pillows may also be washed during this process. For furniture in the rest of the house, such as couches: wipe wipe-able furniture with cleaner or disinfectant wipes, and for fabric furniture, vacuum it. You can also put throw pillows into the dryer for a short period of time.
Make sure to wash any dishes your sick family used, preferably in a dishwasher. The kitchen sink should also be cleaned with soap, as kitchen sinks typically harbor a lot of bacteria. Garbage cans and their lids can also be wiped down to avoid the spreading of germs. After a person had the flu, it is a good idea to change their toothbrush altogether or to disinfect the toothbrush using either hydrogen peroxide or by soaking it in an alcohol-based mouthwash. The family vehicle is a commonly forgotten place to sanitize.
By following these tips, you have a greater chance avoiding illness for you and your family, and a lesser possibility of transferring germs.
And, remember that prevention is always better than treatment. "Getting an annual flu vaccine is the first and best way to protect yourself and your family from the flu," according to the CDC. This vaccine is recommended for every individual aged six months and older. For children ages six months to eight years old, it is recommended to get a first flu vaccine round as soon as they are available, with the hope that the second round would then be administered in late October. The best time for adults to get a flu vaccine is in late October. High dose shots may be recommended for older adults. Flu vaccines are offered at many locations, including doctor's offices and pharmacies. The flu shot may also be available from your employer.
Other defenses against the flu include eating a balanced diet comprised primarily of whole foods such as fruits and vegetables, and maintaining a consistent exercise regimen. A small list of nutrient-rich, flu-fighting foods can include eggs, fish, legumes, mushrooms, protein-rich soups, sweet potatoes and carrots, tomatoes, yogurt and fruit smoothies. Be sure to avoid foods or drinks that are high in sugar, or that contain dairy. Certain types of teas cannot only help prevent the flu but also fight cancer, cardiovascular disease, and early cognitive decline. Turmeric, a spice, can be used in foods or drinks for flu prevention. Golden Milk is an antioxidant-rich drink made with turmeric, coconut milk, and honey. A daily multivitamin can also boost your immunity by giving your body nutrients it may be lacking from diet alone. Golden Milk, as well as daily vitamins, are available locally at Vitalize Juice Bar and Natural Market.
Selling your home should be an exciting, happy time for you and your family. Keeping your family healthy during the winter flu season is critical.  If you need to save time and money during a stressful situation, reach out to a Showcase team member to make sure you get exactly what you want from the sale of your home. Let us deal with the hard stuff, so you don't have to!
Dawn Trigg
Broker Associate, REALTOR®
Dawn is a GRI REALTOR® and broker associate with Showcase, and a 30-year Ocala resident. She holds bachelor degrees in Health Science from UF and Elementary Education from Saint Leo's University. In New York, as well as Florida, she developed a career as a dental hygienist and transitioned to education in the early 2000s. She has previously taught at Grace Christian School here in Ocala. A wife of 32 years and mother of two, Dawn enjoys being active in her community by holding memberships to several local organizations: she previously held board positions with the Junior League of Ocala and the Pioneer Garden Club, was an executive with Marion County Medical Society Auxilary,  and was a board member of Grace Episcopal School.  Currently, she is a member of the Ocala Marion County Board of Realtors, and attends First United Methodist Church of Ocala.
Dawn's love of real estate stems from the social and human aspects of the profession, and she thoroughly enjoys meeting new people. Continuing her education in real estate is also crucial to her as a professional in the field. She utilizes her growing knowledge and active listening skills to help her customers achieve their goals, and brings her emphasis on personal integrity and honesty to bear on every transaction she makes.