Experience an easy, invisible alternative to braces
By Village Dental –
We are preferred providers of Invisalign® and can offer you a full consultation and treatment plan.  Dr. Farrell, Dr. Hall and Dr. Hards are certified in invisialign techniques with years of experience in placing them to successfully improve patient's smiles.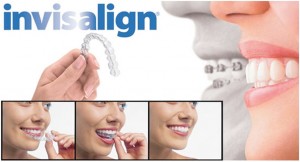 What is Invisalign?
Invisalign® treatment consists of a series of invisible medical-grade polymer (plastic) aligners that are changed every 2 weeks. The Invisalign® system is customized for your teeth and each aligner is manufactured with predetermined specifications to gradually move the teeth into a more desirable and attractive position. Invisalign® is a great way to transform the smile without interfering with day-to-day life. It is an alternative to braces for patients who have a teen transitional or permanent dentition. It is effective on a broad range of cases. With proper diagnosis and consultation, the correct prescription can be made to enhance the beauty and function of the teeth.
Major Benefits of Choosing Invisalign Over Metal Braces
While wearing the clear plastic aligners, one can continue to smile with confidence. Some other benefits over traditional metal braces are:
• The aligners are removable so that brushing and flossing are easier to promote good oral health.
• The aligners are to be removed at meals which prevents anything getting stuck in the appliance.
• The irritation commonly experienced with metal braces, such as wires is eliminated.
• They can be removed whenever for special occasions or photographs.
• They may require fewer office visits at every 6 weeks, compared to metal braces requiring adjustment monthly.
Invisalign Testimonial
"The doctors and staff at Village Dental are very friendly and caring. They greet you by name, which makes you feel welcome. It's like going to see family who care about you and your comfort! I wouldn't smile at all because I had a big gap in my front teeth. They suggested Invisalign. I am so happy with my results! In just 7 months my teeth were together and I smile all of the time now! Everyone keeps asking me what's changed. I tell them it was Invisalign and give them the number to Village Dental!"
LINDA R.
Invisalign May be Good for Your Health
According to the American Dental Association, straightening your teeth can actually significantly affect your overall dental health. When teeth are properly aligned, it helps the gums fit more securely around the teeth allowing for the strongest and healthiest defense against potential periodontal problems. One of the biggest challenges of having braces is removing all the food that gets trapped in the brackets and wires. With Invisalign, the aligners are removable, so it's easy to continue brushing and flossing your teeth the way you normally do. Studies by the American Dental Association have shown that oral infections can also lead to other more serious ailments such as heart disease, stroke, pneumonia, and diabetes. Invisalign aligners make daily oral hygiene easier, thus reducing the risks of possible problems.
Orthodontic Treatment and Periodontal Health
It is pointed out in prestigious dental medical journals that frequently orthodontic treatment is of great benefit to periodontal health. There is overwhelming evidence that crowding does contribute to periodontal disease. Crowding interferes with oral hygiene, traps food particles and changes microflora ecology. The main cohort who might reap periodontal benefits through orthodontic treatment is adults with crowded teeth. They can be treated effectively with the Invisalign system without any of the drawbacks of conventional braces, such as plaque trapping and barriers to using dental floss.
Invisalign® Special Event
If you've been considering perfecting your smile, now is the time!
The Doctors at Village Dental will be providing
Invisalign treatment consultations to answer your questions about Invisalign treatment, the clear way
to straighten teeth. If you have wondered if Invisalign is right for you, ask the scheduling coordinator to schedule you an appointment for this special event.
For Eligible Invisalign Special Event Patients:
. Free Consultation
. Free X-rays and Photos ($334 Value)
. Free Whitening ($664 Value)
. Plus $300 Off Your Invisalign Treatment
A Savings of $1,298!
Limited-time off good through September 30th
**Offered by 3rd party provider to qualified individuals. Must pay in full by the end of 6 month period to avoid finance charges.
For more information, call 352-205-7667 or visit www.villagedental.com.