Submitted by Hospice of Marion County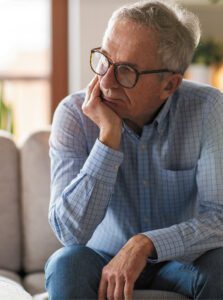 Think of the many things we put off every day, tasks we'd rather not do. Procrastination is all too easy, especially when it comes to talking about something as unpleasant as the end of life. It's one of those topics most people would rather not discuss.
The truth is, the time to talk about it is sooner rather than later. Just as preparing a will is optimal when we are of sound mind and body, so is preparing for future healthcare needs. Having to make decisions for others is decidedly complicated, especially when that person – someone beloved – can no longer speak for themselves.
Next month is National Healthcare Decisions Day – Look for our featured article in the April issue highlighting two films about grief and loss and how you can score tickets to see them at no charge at the Marion Theatre in downtown Ocala – It's our mini film series called Feel better/Live better. Don't miss it!
Advance directives are legal documents that include a living will or a durable power of attorney for healthcare, also known as a healthcare proxy. Either document allows you to give directions about your future medical care. It's your right to accept or refuse medical care. Advance directives can protect this right if you ever become mentally or physically unable to choose or communicate your wishes due to an injury or illness. By law, the decision belongs to the patient, so make your wishes known to your family, providers and caregivers.
An advance directive can be as simple as a two-page Living Will or as lengthy as the Five Wishes, a detailed-yet-user-friendly booklet. In Florida, an advance directive requires neither an attorney nor a notary—just the writer's signature and that of two witnesses. Despite the simplicity of these documents, only about 25% of all Americans have completed one.
Advance Directives can:
• Protect your rights to make medical choices that can affect your life.
• Let families avoid the responsibility and stress of making difficult decisions.
• Assist physicians by providing guidelines for your care.
• Protect people who may be unable to communicate
• Limit life-prolonging measures when there's little or no chance of recovery. They enable patients to make their feelings known about:
– Cardiopulmonary resuscitation (CPR)—used to restore stopped breathing and/or heartbeat.
– Intravenous (IV) therapy—used to provide food, water, and/or medication through a tube placed in a vein.
– Feeding tubes—inserted through the nose or throat to provide nutrition.
– Ventilators –respirators are used to keep patients breathing.
– Dialysis— a method of cleaning blood when the kidneys no longer function properly.
Regardless of age or health status, we owe it to those we love to discuss our wishes and follow through with a written advance directive, which is revocable at any time. Free advance directives are available on www.hospiceofmarion.com website all year long, or contact our Monarch Center for Hope & Healing for assistance filling out your forms. With so many things in life today out of our hands, take comfort in the fact that we can control something so important for those who are dear to us. Visit our website to learn more or call (352) 873-7456 if you need assistance.