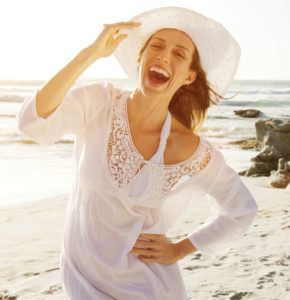 Many women have gynecological issues that cause pain and it's not "just in your head!" It's not uncommon that hormonal dysfunction plays a critical role in changing the way women feel about intimacy with their partner. Conditions like Hormonal imbalance, pelvic pain, endometriosis and fibroids all cause pain and can lower a women's libido.
Dyspareunia (painful sex) is a symptom of vulvar and vaginal atrophy (VVA). Whether menopause was brought on naturally by aging, or surgically, it is quite common for women to experience painful intercourse during this time in their lives. Genitourinary syndrome of menopause (GSM) better explains the overall dysfunction of the urinary and genital tissues as women undergo menopausal symptoms.
Genitourinary Syndrome of Menopause & VVA
When the regularity of a woman's periods cease, the estrogen receptors decrease along with estradiol in the uterine lining, which disrupts the thickness and lubrication of the tissues. Why is this significant? Estrogen increases gland secretion and blood flow to the urogenital tissues, so when our estrogen is limited or obsolete, it leads to vaginal dryness, pain, PH imbalance and urinary changes like incontinence to name a few.
Due to the limited estrogen supply, the walls of the vagina start to thin out, causing dryness, burning, and inflammation. This can make intercourse very painful and can cause urinary disorders and can even interfere with daily activities for many women due to the extreme pain and discomfort that it can cause. This disorder is specifically known as vaginal and vulvar atrophy.
Your Treatment Options
Most women think that it's just a normal part of the hormonal process, but there are many options to relieve vaginal and vulvar atrophy by restoring your vaginal tissues and alleviating your pain. Finding the right treatment for you is what Dr. Parveen Vahora specializes in. She helps women by looking at the whole person and diagnosing the cause when administering highly acclaimed treatments, not merely their symptoms.
Hormone Therapy
If you are experiencing moderate to severe menopausal symptoms, Dr. Vahora may suggest bioidentical hormones. With personalized medicine, Bioidentical hormones can be traditional FDA pharmaceuticals or compounded bioidentical hormones, because both allow your healthcare provider to tailor your treatment to your specific needs.
Other hormonal treatment options include estrogen pills, creams, gels or transdermal patches, which will increase estrogen production in the uterus. If you no longer have a uterus, you might respond better to a stronger, time-released dose of estrogen via an inserted vaginal ring or other non-estrogen related products.
Cutting-Edge Technology to Stop your Pelvic Pain
When you have VVA and dyspareunia (painful intercourse), sometimes hormone therapy is not enough to improve your symptoms alone. When hormones are not enough or contraindicated, there is another option. The MonaLisa Touch® has helped countless women.
This procedure restores the resiliency and moisture tot eh vagina. Many women feel as though it turns back time. MonaLisa Touch® is an advanced laser therapy the revitalizes the vagina and makes it feel like a younger vagina. There are no medications, not cutting and no lengthy healing times with this procedure. Pain-free, Patients feel tiny vibrating sensations from the machine, and the best part is that the entire procedure is accomplished in an outpatient, office setting.
The laser assists with the bodies cell renewal and will regenerate the mucous membrane and help with the restoration of collagen and renewing the proper trophic balance to the membrane.
Now it's possible to have relief from vaginal and vulvar atrophy with the MonaLisa Touch's® ability to gently improve the tissue of the vaginal mucosa. The laser stimulates the production of collagen, improving the functionality of the treated area and restoring the proper trophic balance to the mucous membrane.
Dr. Parveen Vahora states, "I inspire women to live their best life by providing compassionate care. Women should not suffer with symptoms of menopause including hot flashes, mood swings, insomnia, vaginal dryness, and pain with intimacy."
You don't have to live with hormonal imbalance and all of the issues that are disrupting your body and health, get the relief and new beginning that you are worthy of. Talk to your Gynecologist or Nurse Practitioner to discuss what options are best for you.
HEAL & ALLEVIATE Your Pelvic Pain!
Please call (727) 376-1536.
Connie Moler, APRN, joins Dr. Vahora's office. Originally from Central Illinois, Ms. Moler obtained a B.A. in Psychology from Indiana University. She then completed her MSN as a Women's Health Nurse Practitioner at Vanderbilt University. Ms. Moler brings her 20 plus years of experience and her joy of caring for women to her new position with Dr. Vahora.