By Lindsay Crocker, Family Nurse Practitioner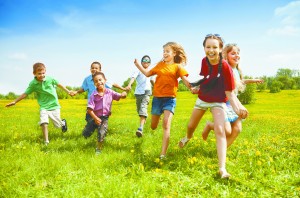 Summer fun is just around the corner: sun, sports, pools, playgrounds and other outdoor activities abound. It's no surprise to any parent that the summer season is also the busiest for your local emergency room.
Knowing what to do when an emergency arises, when and how to administer medical care at home and when to head to the ER is important. Injuries are the top cause of death for children ages 1 to 21, according to the American Academy of Pediatrics.
Educating yourself and your family about how to handle an emergency can make for a safer, happier and healthier summer.
First aid kit
Bumps, scrapes and boo-boos can be handled at home with a well-stocked first aid kit. A necessity in every home, a first aid kit can help handle minor emergencies that don't require a doctor's immediate care. Your kit should be stored in a central location in your home – within easy reach for adults, not children. A properly stocked kit can help you manage emergency needs ranging from a burn to a deep cut.
Check your kit regularly and replace missing items or expired medications. It's a good idea to have a first aid kit in your home and another in the car. Don't forget to take it with you on family vacations, too.
First aid basics
Once your kit is assembled, be sure you know how to use it. Your local hospital or American Red Cross office generally offers first aid classes in administering CPR or the Heimlich maneuver, wrapping sprains, applying splints and treating burns. Some general first aid tips for a few common situations include:
• Bruises: elevate and apply ice or a cold pack.
• Burns: Immerse the burned area in cool water for at least five minutes or until the pain subsides. Cover the area loosely with a sterile gauze bandage. Do not apply ice directly, and do not use ointments or butter.
• Bleeding or puncture wounds: apply continuous, direct pressure with a clean cloth or towel to control bleeding, for about 20 minutes. Rinse the wound with clean water (no soap, as this may irritate the wound); apply an antibiotic and cover the wound with a bandage or sterile gauze.
Be sure to wash your hands before treating a wound. If you're not sure about the severity of the injury, call your doctor or head to your local emergency room.
When to go to the ER
If the injury is severe or complications occur – such as continued bleeding or redness, pain, numbness, fever or swelling – you need to go to the emergency room.
A trip to the ER can be stressful for a child. Besides the injury and physical discomfort, there's also the fear of the unknown. If the parent can stay calm, that demeanor can transfer to the child and pave the way for a smoother ER visit. Also, be sure to bring an ER "care package" to include:
• Medical records about your child and your family; including current medications; allergies; relevant family history; and previous hospitalizations, surgeries or illnesses.
• A list of important phone numbers.
• A small notebook for recording symptoms or making notes during your visit with the doctor.
• Items for any wait time: crayons, books, toys, extra diapers, cash for snack machines/incidentals, and comforting objects, like a favorite stuffed animal.
These will give you and your child something to do during the wait, and will also calm your child.
• A change of clothes and a toothbrush for you and your child (if you think there is a chance your child may be admitted).
Call your primary care provider before heading to the emergency room. If your child has swallowed a medication or household substance or object, bring that medication or liquid, or an object like the one he or she swallowed, to show ER doctors.
Be prepared
According to the American College of Emergency Physicians, every emergency can be managed using the four-step process: prevent, prepare, recognize, and act. This includes mock emergency drills with family, CPR classes from your local hospital or Red Cross office, and teaching children to call 9-1-1 in an emergency. Discuss with your child what constitutes an emergency and which situations are appropriate (and not appropriate) to call for emergency help. Help your child to memorize and practice the information they'll need to provide: their home address, their home phone number, and other questions the dispatcher will ask about the person who needs help (whether they are conscious and breathing).
For first aid and emergency advice on a wide range of conditions, visit the Medical Services or Health Education tabs at www.Tennova.com. Tennova Healthcare or the local Red Cross can provide more information on CPR and first aid classes that are offered in your area.